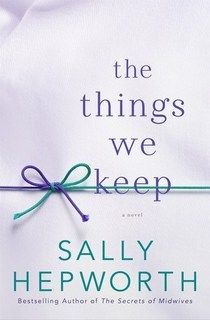 Genre: Women's Fiction
Hardcover:

352 pages

Publisher:

St. Martin's Press (January 19, 2016)

Language:

English

ISBN-10:

1250051908

ISBN-13:

978-1250051905
Synopsis:
Anna Forster, in the early stages of Alzheimer's disease at only thirty-eight years old, knows that her family is doing what they believe to be best when they take her to Rosalind House, an assisted living facility. She also knows there's just one another resident her age, Luke. What she does not expect is the love that blossoms between her and Luke even as she resists her new life at Rosalind House. As her disease steals more and more of her memory, Anna fights to hold on to what she knows, including her relationship with Luke.
When Eve Bennett is suddenly thrust into the role of single mother she finds herself putting her culinary training to use at Rosalind house. When she meets Anna and Luke she is moved by the bond the pair has forged. But when a tragic incident leads Anna's and Luke's families to separate them, Eve finds herself questioning what she is willing to risk to help them.
Review: This is a very moving story. While the main story is about Anna and Luke, a pair of thirty-somethings with early onset Alzheimer's, and their relationship inside an assisted living facility, the heart of the novel is about memories. Several characters learn that what they remember isn't necessarily reality, or isn't how others remember the same event or person.
The story is told from several perspectives: Anna, who starts fifteen months earlier than present day, when she first moves into the facility, Eve, who shares a present day narrative, and Eve's six-year-old daughter, Clementine, whose perspective is also present day.
In Anna's chapter, we get insight into her frustrations with the disease as it progresses and she can feel herself slipping away. Eve, in my opinion, was way too personally involved in the lives of the residents, particularly as the cook/housekeeper, with no medical training at all. Clementine was going through a very traumatic time, yet she somehow managed to be a ray of sunshine throughout the story.
Aside from Anna and Luke, we also get to know the other residents of the facility and to care about their stories as well. Some of them made me smile, while others brought tears to my eyes. Although this book tells a predominately sad story, the ending will leave the reader with a sense of hope for the majority of the characters.
**I received a copy of this book from The Reading Room and St. Martin's Press in exchange for an honest review. All thoughts and opinions are entirely my own.**
Rating:
Five stars
About the author
Sally Hepworth is the bestselling author of THE SECRETS OF MIDWIVES (St. Martin's Press, U.S. paperback releasing December 29, 2015) and the upcoming THE THINGS WE KEEP (January 19, 2016), a love story about a man and woman with dementia. To share your experience with how love transcends dementia, please visit the below link:
http://thethingswekeepbook.tumblr.com
)
Sally has lived around the world, spending extended periods in Singapore, the U.K., and Canada, where she worked in Human Resources.
Sally lives in Melbourne, Australia with her husband and two children. Sally is currently working on her next novel.