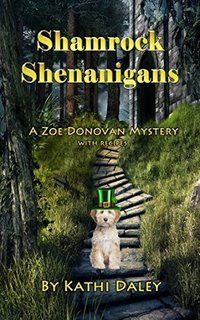 Genre: Cozy mystery
File Size:

2955 KB

Print Length:

240 pages

Publisher:

Kathi Daley Books (January 1, 2016)

Publication Date:

January 1, 2016

Sold by:

Amazon Digital Services, Inc.

Language:

English

ASIN:

B0186KV7S4
Synopsis:
Zak and Zoe travel to Ireland for their first Valentines Day as husband and wife. They have been invited to attend a murder mystery weekend in a real haunted castle. During their first night at the castle, they find one of the guests dead. Really dead. As they delve into the murder they begin to see that not only are things not as they appear, but several of the other attendees are not who they claim to be. During the course of her investigation, Zoe discovers a secret about herself that is more than just a little shocking.
Review: This is the 19th book in the Zoe Donovan series, and it is just as entertaining as the first one. This time around, Zoe and Zak are attending a murder mystery weekend at a haunted castle in Ireland. Sounds like a great way to spend Valentine's Day, right? But, once an actual murder takes place, and everyone is trapped in the castle due to the inclement weather, romance is the last thing on anyone's mind.
As if discovering another dead body, and being suspected of the murder, isn't enough bad news, things don't seem to be going well back home in Ashton Falls (which I suppose we'll find more about in the next book). In the course of investigating the murder--and the now missing body--Zoe makes contact with one of the castle's ghosts and finds out something about herself that she, and I, never saw coming.
It seems to me that every book I read in this series becomes my new favorite. Ms. Daley does a great job of keeping the characters fun and personable, and coming up with new mysteries that are interesting and entertaining to solve. Can't wait to see what is next for the Donovan-Zimmerman clan!
Rating: Five stars
About the author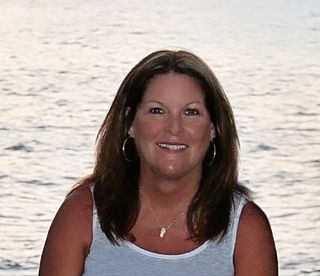 Kathi lives with her husband, kids, grandkids, and dogs in beautiful Lake Tahoe. When she isn't writing, Kathi likes to read (preferably at the beach or by the fire), cook (preferably something with chocolate or cheese,) and garden (planting and planning not weeding). She also enjoys spending time on the water when she's not hiking, biking, or snowshoeing, the miles of desolate trails surrounding her home.
Kathi uses the mountain setting in which she lives, along with the animals (wild and domestic) that share her home, as inspiration for her cozy mysteries.
Join her on Facebook at Kathi Daley Books (
www.facebook.com/kathidaleybooks
) for updates on my books, photos of life in Lake Tahoe, recipes, contests, and giveaways. For weekly updates and contests sign up for The Daley Weekly Newsletter (
http://eepurl.com/NRPDf
).