Description:
Dive into the female psyche and explore several rarely understood psychological phenomena with this intimate portrait of a woman's struggles to hold on to reality.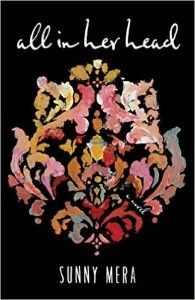 Synopsis:
As a young girl growing up in the Midwest, Sunny experiences the shame and stigma of scandal when her father is banned from their church for having an affair with the pastor's best friend's wife. As Sunny grows older, she begins to build the life she's always wanted: she marries, buys a house, enrolls in graduate school, and soon has a baby on the way. But when she experiences the psychological phenomena of orgasmic labor, it triggers a chain of bizarre events, and she gradually descends into a world of delusion and paranoia. As Sunny struggles to separate the real from the unreal, she relies upon friends and family to ground her in truth and love—and keep her from going over the edge into madness.
Review: This was a tough read for me. I kept thinking "This is just crazy talk," and then I realized that was the POINT. The way the book is written actually gives readers a chance to see her life as she saw it at the time.
The book is an eye-opening view of motherhood, marriage, mental illness, treatment and recovery. I admire Sunny for her bravery in putting it all out there for the world. She will make you laugh and cry, and rail at the current state of mental health care in this country.
**I received a copy of this book from Booksparks in exchange for an honest review. All thoughts and opinions are entirely my own.**
Rating:
Four stars
About the author
I'm a mother who writes and lives in Brooklyn, New York, where I landed by way of New Hampshire. I was inspired to write the book All in Her Head: A Novel after my diagnosis of severe mental illness and my battle with postpartum depression, psychosis, and delusional disorder. I come from a privileged, educated, and stable home; I grew up attending a small, private Christian school that my parents and their friends founded in our attic in Topeka, Kansas. Thankfully, medication is effective for me and I wasn't criminalized for my illness. On my journey, the thing I needed was more role models to explain how to share. I needed to hear stories of people who told their stories, and see more stories explaining how to teach others to listen. This would have helped so much during my dark days and then during my early days of insight. I've spent the last decade writing a narrative I can live with. Now that I'm finished with this story, I can work on what I want: mothering and writing about things that aren't centered on me. I'm sharing this story with the aspiration that others will share my real hope for building a reality that is a place we want to live.