Title: In The Dark
Author: Chris Patchell
Genre: Thriller, Suspense
Paperback:

478 pages

Publisher:

CreateSpace Independent Publishing Platform (September 10, 2015)

Language:

English

ISBN-10:

1514790068

ISBN-13:

978-1514790069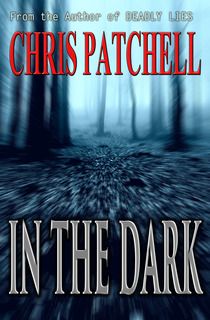 Synopsis:
When the worst happens and her daughter goes missing, a mother will do anything to find her…
Marissa Rooney's daughter, Brooke, has been missing for days. Her roommate hasn't seen her since that night in the bar. Standing in the middle of her daughter's dorm room with a half-used vial of insulin clenched in her hand, Marissa comes to the terrifying realization that if she has Brooke's insulin, it means that Brooke does not.
The missing person's investigation takes a sudden and deadly turn when the police discover the body of another college student who went missing a week before Brooke. Desperate to find her daughter, Marissa fears time is running out.
But she isn't alone in her terror. A phantom from Marissa's past is lurking in the shadows, waiting in the night, and holding her family captive…In the dark.
"An edge-of-your-seat suspense novel. It scared the hell out of me. Read it with the lights on!"–Robert
Dugoni
, Amazon #1 and
New York Times
bestselling author of
My Sister's Grave
When Chris
Patchell
isn't hiking in the Cascade Mountains or hanging out with family and friends, she is working at her hi-tech job or writing gritty suspense novels. Why suspense? Chris blames her obsession with the dark on two things: watching Stephen King movies as a kid and spending ridiculous amounts of time commuting in Seattle traffic. Learn more about Chris and her books at
www.chrispatchell.com
or follow her on Facebook at
https://www.facebook.com/authorchrispatchell/?fref=ts
.