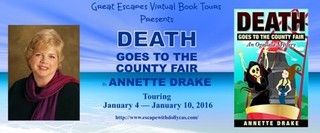 Death Goes to the County Fair
(An Ogallala Mystery)
New Series
Print Length: 100 pages
Publisher: Baskethound Books (October 15, 2015)
ASIN: B014I7MH56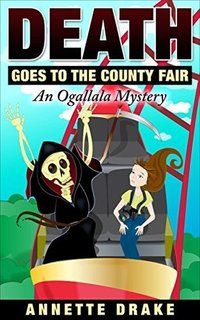 Synopsis:
Joni Harte knew her first job out of college would be tough, but she didn't expect it to be murder.
With the ink mostly dry on her journalism degree, Joni accepts the position of news reporter and photographer for The Ogallala Gazette. She's tasked with chronicling all of the goings-on of the quirky characters who inhabit this small Missouri town.
While investigating the identity of the first murder victim, Joni makes an enemy of the local sheriff. Worse, she catches the attention of a violent stalker who promises to cure Joni of her curiosity.
As the Ogallala County Fair comes to an end, Joni must uncover the truth before she comes to hers.
Review: I absolutely LOVE this book, and look forward to reading more in the series. Joni Harte is a perfect cozy mystery heroine--local newspaper reporter turned amateur sleuth. The setting of a small town and a county fair is described so vividly that you feel as if you are right there with the townspeople.
The interactions between the characters are a lot of fun. There is plenty of humor along with the mystery and suspense. The entire story takes place over the course of one very action packed week. The mystery plays out well, and will leave you guessing right up to the moment of the big reveal.
As someone who grew up in a small town, this book and its characters felt a lot like coming home.
**I received a copy of this book in exchange for an honest review. All thoughts and opinions are entirely my own.**
Rating: Four stars
Annette Drake is a multi-genre author whose work is character-driven and celebrates the law of unintended consequences.
Death Goes to the County Fair
kicks off the premier of her cozy-mystery series set in Ogallala, Missouri. The book premiered on October 15th.
Her romance titles include A Beautiful Day in Alaska
,
A Year with Geno
, and Celebration House
.
Annette's middle-grade novel, Bone Girl
, was published in March of 2014 by Baskethound Books and is available in ebook, print and audiobook.
Annette makes her home in Washington State. A member of the Society of Children's Book Writers & Illustrators, she loves ferry rides, basset hounds and bakeries. She does not camp. If she can help it.
a Rafflecopter giveaway