Genre: Women's Fiction
Paperback:

480 pages

Publisher:

Pegasus; Reprint edition (July 15, 2015)

Language:

English

ISBN-10:

1605988006

ISBN-13:

978-1605988009
Synopsis:
A charming and poignant romp through the love affairs—both hound and human—of a country-village midwife, from the international bestselling author of
City Girl, Country Vet
, set in Talyton St George, Britain's most romantic town.
Life has been tough lately for Zara, a recently divorced country midwife. Now living with her grandmother, it is hardly the ideal situation in which to get her life back on track. And then one day, love walks in, in the form of an abandoned puppy. From the start, Zara feels in over her head: she knows nothing about dogs, and has been afraid of them for most of her life. Yet she quickly comes to adore her new friend, despite the fact that the puppy causes havoc wherever they go. She is grateful when a local shepherd, Lewis, offers to help train her. But Lewis has an ulterior motive for helping. And though Zara may be able to trust him with her naughty dog, can she trust him with her bruised heart?
Review: This is a fascinating tale with several layers. One is the romance between Zara, the midwife, and Lewis, the shepherd. Another is the strained relationship between Zara and her ex-husband. Yet another is the relationship between Zara and her grandmother, who has dementia that is steadily worsening.
While this book is the eighth in a series, it stands on its own with no issue. There is nothing to make the reader feel as if they don't understand or have missed out on something.
This story is about love, friendship, family, life in a small village, and hope. The characters are realistically written, flaws and all, and the story is very well told. I also enjoyed the relationships which many characters had with their canine or feline friends.
**I received a copy of this book from the publisher in exchange for an honest review. All thoughts and opinions are entirely my own.**
Rating: Four stars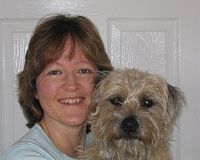 I began my working life as a small-animal vet. Like turning the pages in a book, I was never quite sure what was going to happen at the surgery next. From the sausage dog who swallowed a sewing needle to the telly addict of a rabbit who lost an eye to infection, there was never a dull moment.
I have always loved to read, escaping into all kinds of novels during those long nights on call, but I didn't have much time to pursue writing until after my children were born and I gave up full-time work to look after them. I joined a creative writing group and entered all the writing competitions I could find.
My break into becoming a published author came in 2002 when I was joint winner of the Harry Bowling First Novel Award. At the award ceremony, I met Laura Longrigg of MBA Literary Agents who signed me up on delivery of a finished manuscript.
In April 2003, Laura rang to say that Headline were offering me a two book deal. I had to dial 1471 to check she really had called me and I wasn't dreaming.
My first novel, Under The Bonnet, was published in November 2004. My second, Our House, was published in 2005, the third, Family Matters in 2006, and the fourth, The Boy Next Door in 2007.
Since then, I've been working on an exciting new project, a series of novels about The Otter House Vets, a fictional practice set in a quiet Devonshire market town. Trust Me, I'm a Vet, which will be published in paperback by Arrow Books in April 2010, closely followed by the second book in September 2010.
Since I last updated my website, my menagerie of animals has grown, much to my family's delight. We now share our lives with two cats, three mad Border Terriers, two ponies and two pet rats which we found abandoned to starve in a cage in the woods nearby. You should have heard my husband's sigh of resignation when I told him we were bringing them home!