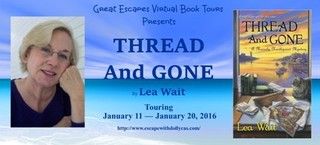 Thread and Gone
(A Mainely Needlepoint Mystery)
3rd in Series
Mass Market Paperback: 304 pages
Publisher: Kensington (December 29, 2015)
ISBN-13: 978-1617730085
E-Book ASIN: B00VQFKH8I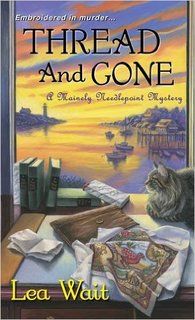 Synopsis:
When a priceless antique is stolen, murder unravels the peaceful seaside town of Haven Harbor, Maine…

Angie Curtis and her fellow Mainely Needlepointers know how to enjoy their holidays. But nothing grabs their attention like tying up loose threads. So when Mary Clough drops in on the group's Fourth of July supper with a question about antique needlepoint she's discovered in her family Colonial-era home, Angie and her ravelers are happy to look into the matter.
Their best guess is that the mystery piece may have been stitched by Mary, Queen of Scots, famous not just for losing her head, but also for her needlepoint. If they're right, the piece would be extremely valuable. For safe keeping, Angie turns the piece over to her family lawyer, who places it in her office safe. But when the lawyer is found dead with the safe open and ransacked, the real mystery begins. . .
Review: This is the third book in the series, and they just seem to keep getting better. Haven Harbor is the quintessential New England town, quaint and picturesque. The author puts you there with her vivid descriptions.
The needlepointers are becoming well-known friends at this point, having read all three books. They are easy to relate to, and very realistic. We learn more about each of them as the series continues, just as we would about real people in our lives.
The mystery, and the history, surrounding the antique needlepoint, is very well presented. We learn about its possible ties to Mary, Queen of Scots and to Marie Antoinette. There are twists galore, and when the truth of things is revealed, it's a complete surprise.

**I received a copy of this book in exchange for an honest review. All thoughts and opinions are entirely my own.**
Rating: Four stars
About the author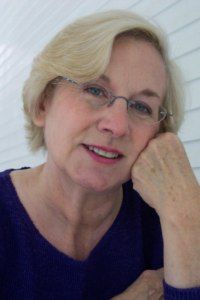 Lea Wait
lives on the coast of Maine. A fourth generation antique dealer, and author of the Agatha-nominated Shadows Antique Print mystery series, she loves all things antiques and Maine, and she's learning to do needlepoint. She also writes historical novels for young people set in (where else?) nineteenth-century Maine. Lea adopted her four daughters when she was single; she's now the grandmother of eight, and married to artist Bob Thomas.
a Rafflecopter giveaway