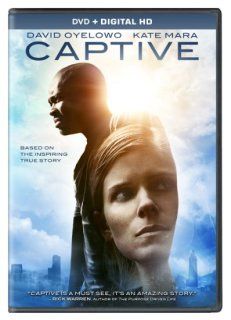 Synopsis:
Captive
is a 2015 American crime-drama thriller film directed by Jerry Jameson and written by Brian Bird and Reinhard Denke, based on the non-fiction book Unlikely Angel by Ashley Smith.
A true story about Brian Nichols, who escapes from the Fulton County courthouse in Atlanta on March 11, 2005 and holds Smith as a hostage, the film stars David Oyelowo as Nichols and Kate Mara as Smith. Filming began in October 2013 in North Carolina. The film was released worldwide on September 18, 2015 by Paramount Pictures.
Review: Although this movie is billed as a crime-drama thriller, there is also a Christian undertone to it, based on events that occurred during the time Nichols held Smith captive in her apartment. Nichols allowed Smith to read aloud from a book she had recently been given--THE PURPOSE DRIVEN LIFE by Rick Warren, and her words softened his heart, aiding his decision to let her go.
While watching this film, you can easily forget it is a fictionalized account of the events. The acting is superb, and it feels more like a live broadcast or documentary. You can feel the anger and frustration of Nichols, and the fear and desperation of Smith.

I thoroughly enjoyed this film, and will no doubt watch it many times in the future.

**I received a copy of this DVD from Flyby Promotions in exchange for an honest review. All thoughts and opinions are entirely my own.**
GIVEAWAY
If you would like to be entered into a giveaway for your own copy of this DVD, leave a comment on this post, along with your email address. A random winner will be chosen on Friday, January 29, 2016.

DISCLOSURE (in accordance with the FTC's 16 CFR, Part 255: "Guides Concerning the Use of Endorsements and Testimonials in Advertising"): Many thanks to Propeller Consulting, LLC for providing this prize for the giveaway. Choice of winners and opinions are 100% my own and NOT influenced by monetary compensation. I did receive a sample of the product in exchange for this review and post.

Only one entrant per mailing address per giveaway. If you have won a prize from our sponsor Propeller/Flyby Promotions in the last 30 days, you are not eligible to win. Or if you have won the same prize on another blog, you are not eligible to win it again. Winner is subject to eligibility verification.