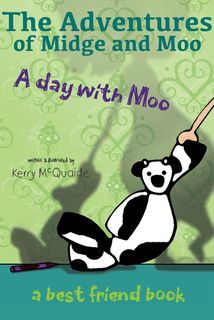 Genre: children's picture book
Series:

The Adventures of Midge and Moo

Paperback:

34 pages

Publisher:

Calamity Press (September 15, 2015)

Language:

English

ISBN-10:

1944121072

ISBN-13:

978-1944121075
Synopsis:
Midge and Moo are best friends. They came home from the hospital together when Midge was just two days old. They do everything together.
Mommy says, "Stop right there! You are tracking in mud all over the floor."
Midge tells Moo, "Bad Moo! You got mud all over the floor!"
Midge learns what it is like to have a partner in crime, a best friend, and someone who is there for you no matter what.
Snuggle up with your little one and spend the day with Midge and Moo.
Review:
This is an adorable story of a girl and her stuffed animal. I smiled as I read it, thinking of my oldest daughter and her "Moo Bear," who also came home from the hospital with her--and of HER daughter, who came home with a stuffed bear this past September.
Midge and Moo have a very full day, sharing adventures and trouble. There are very few words on each page, which makes it a quick read for small children, and easy to read for older children who are just beginning to read on their own. The illustrations are simple and colorful, and show exactly what is taking place at that point in time.
I look forward to sharing this story with my grandchildren, and in collecting more of the books from this series.
Rating: Five stars
About the author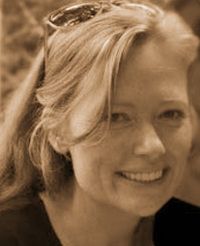 I love writing and illustrating stories for kids!
Stories are fun, but it's more than that...each book a child reads is a doorway into understanding more about herself and more about the world she lives in.
I want to create those doorways—to laughter, to learning, to imagined worlds, and most importantly... to connecting with each other.
To connect with me, see stories and drawings in progress, plus receive free books and activities visit my website www.kerrymcquaide.com.