Genre: Psychological thriller
Paperback:

372 pages

Publisher:

BrowneStar Publishing (October 29, 2014)

Language:

English

ISBN-10:

0692249729

ISBN-13:

978-0692249727
Synopsis:
Liar, killer, victim or martyr. Who is the real Shelby Cooper?

Dr. Shelby Cooper is a brilliant research scientist with a past steeped in secrets and lies--lies about her true identity, her family, and the tragic consequences of one regrettable mistake she made as a teenager. But Shelby is a survivor and now lives the life she only dreamed of with her powerful executive husband, and two adorable kids in a picturesque New England town.

When her ex-lover is discovered shot to death in the trunk of her car, overwhelming evidence points to Shelby as the killer, and to the police it's an open-and-shut case. For the Cooper family, it's the beginning of a terrifying nightmare where nothing is as it seems. Who is Shelby Cooper? And why does the psychopath stalking her teenage daughter Abbie insist she has done bad things?

To unmask a killer and rescue his wife from a possible murder conviction, Jason Cooper must unravel the mystery of Shelby's past. As the clock ticks, a series of shocking revelations threaten to destroy the Coopers for good. But nothing can prepare them for the mother of all deception--a truth so horrifying, it may leave them shattered forever.
Review: I enjoyed the suspense and mystery of this story. Dr. Cooper seems to have it all, at least until her former lover is found shot to death in the trunk of her car, and she is arrested for his murder. Even though she knows she is being set up, she is powerless to prove it if she wants to protect her family. Meanwhile, her teenage daughter is being stalked and receiving some very troubling texts from the same person threatening Dr. Cooper.

There are plenty of twists in the plot of this story, and the secrets are revealed layer by layer, piece by piece. It is pretty complex, and there are a variety of subplots going on, but it definitely held my attention all the way through.
The book switches perspectives between several characters, which gives the reader a better insight into thoughts and motivations. The turmoil the family is going through is very accurately depicted, making them all sympathetic characters.
Every time you think you know where the story is going, and how it is going to play out, the author tosses out another twist, and you're back to square one. The final confrontation between Dr. Cooper and her tormentor, where everything is revealed, is simply amazing.
**I received a copy of this book in exchange for an honest review. All thoughts and opinions are entirely my own.**
Rating: Four stars
About the author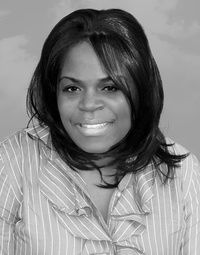 Gledé Browne Kabongo is the Bestselling Author of Swan Deception, Conspiracy o Silence, and the soon to be released Game of Fear, and Mark of Deceit (Eye of Fear Anthology). Her love affair with books began as a young girl growing up in the Caribbean. The town library overlooked the Atlantic Ocean, and she was trading books and discussing them with neighbors before Book Clubs became popular.
She holds both an M.S. and B.A. in communications and worked as a freelance news reporter after college. She writes psychological suspense novels featuring whip-smart, flawed yet courageous female characters up to their eyeballs in secrets and diabolical schemes. Gledé lives in Massachusetts with her husband and two sons.