A Berkley Prime Crime Mystery
Published by Penguin Random House, LLC.
Release Date: January 5, 2016
Mass Market Paperback: 304 pages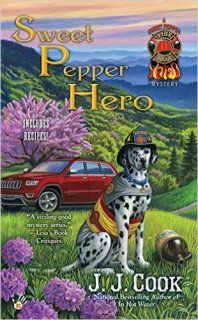 Synopsis: Old rivalries heat up in the fourth Sweet Pepper Fire Brigade mystery from the national bestselling author of In Hot Water.
Fire chief Stella Griffin has been put in charge of judging the annual recipe contest, but Eric—her resident ghost and true culinary genius—has vanished. Before she can track down his latest haunt, she's called in to investigate a local moonshine distillery that was set ablaze, making her realize there's more than pies and cakes cooking in Sweet Pepper.
As rumors of a revived whiskey war ignite, Stella turns to the town's elders to help her find answers. The past might have some clues as to what has sparked the present fires. But when following a lead lands her in buried rubble, Stella realizes she must extinguish this case fast or she might be going down in flames.
Review: This is my favorite series written by the Lavenes. The last book left us with such a cliffhanger, that I was waiting VERY impatiently for this book.
I have so many favorite characters in this series, but most especially Stella and Eric. I enjoy the interactions between them, and the chemistry. At least once in every book I wish he weren't a ghost, so that they could have a romantic relationship.
The rest of the fire brigade are also great characters, and I enjoy getting to know more about them in each book, and the same is true of other Sweet Pepper residents. I even find myself liking Stella's grandfather a little more after this book.
The writing is smooth and well crafted. The plot is suspenseful, and keeps you turning pages to find out what will happen next, and how it will all play out. There is also a touch of humor throughout the book.
I would recommend this series to anyone looking for a fun, easy read with characters who stick with you long after the book ends.
**I received a copy of this book in exchange for an honest review. All thoughts and opinions are entirely my own.**
Rating: Five stars
About The Authors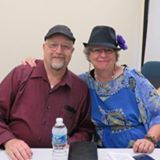 J. J. Cook is a pseudonym for a married couple, Joyce and Jim Lavene, who writes mysteries, mostly set in the South, with a touch of paranormal and romance.
Purchase Links:
Amazon
B&N
Google Play