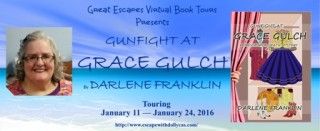 Gunfight at Grace Gulch
(Christian Cozy Mystery)
(A Dressed For Death Mystery Book 1)
Forget Me Not Romances
A Division of Winged Publications (February 28, 2015)
Paperback: 216 pages
ISBN-13: 978-1508946991
E-Book B00U4XPROW
Synopsis:
The feud between the Graces and the Gaynors is still going strong more than a century after its inception in the 1891 Oklahoma land run. Newspaper editor Penn Hardy is murdered during the reenactment of the most famous gunfight in the history of Grace Gulch, Oklahoma. Cici Wilde, owner of a vintage clothing store, feels compelled to investigate when police suspect people close to her. She soon discovers her talent for sleuthing equals her flare for wearing period clothing. Theater director Audie Howe never expected the reenactment to end in a real murder. He cares too much for the future of the Magda Grace Mallory Theater - and the charming Cici Wilde - to let her face danger alone. Cici and Audie take a dangerous gamble to nail the killer - and lay their lives on the line.
Review: This is the first in a series, and I look forward to reading more in the future. Each chapter opens with a letter from the 1800s so that we get a glimpse into the past of Grace Gulch as well as the present day murder mystery.
This is a fairly quick, easy read, which has clues spread throughout but still leaves you guessing until the final reveal. This is a Christian cozy, but that part of things is presented in a very natural way among the characters, and readers won't feel they are being flogged with it. There is romance, humor, mystery, and murder--also vintage clothing, small town food, and a festival celebrating the town's history. In other words, there is something for everyone!
**I received a copy of this book in exchange for an honest review. All thoughts and opinions are entirely my own.**
Rating: Four stars
About the author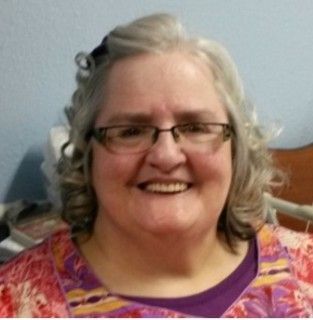 Best-selling author Darlene Franklin's greatest claim to fame is that she writes full-time from a nursing home. She lives in Oklahoma, near her son and his family, and continues her interests in playing the piano and singing, books, good fellowship, and reality TV in addition to writing. She is an active member of Oklahoma City Christian Fiction Writers, American Christian Fiction Writers, and the Christian Authors Network. She has written over forty books and has written more than 250 devotionals. Her historical fiction ranges from the Revolutionary War to World War II, from Texas to Vermont.
@darlenefranklin
Purchase Links
Amazon
A Book Excerpt
The gigantic black hands on the town clock atop our municipal building inched toward twelve o'clock. Audie put a cell phone to his ear.

Cord and Penn, reprising their roles as Bob Grace and Dick Gaynor, burst through the saloon doors, shouting insults.

My heart stuttered a bit, worried for Cord. Penn sounded really angry.

"You can't get away with it. You're a scoundrel and a cheat." Penn's face was set into deep lines, hatred aging him prematurely.

"I'm not a cheat. I arrived first, fair and square.

Tension twisted my shoulders. I held my breath.

"That's what you think!" Penn pulled out a Colt and fired.

A flash of light—popping sounds—two men fell to the ground.