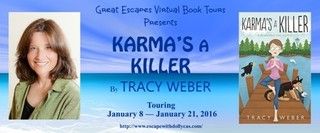 Karma's a Killer
(A Downward Dog Mystery)
Cozy Mystery
3rd in Series
Midnight Ink (January 8, 2016)
Paperback: 288 pages
ISBN-13: 978-0738742106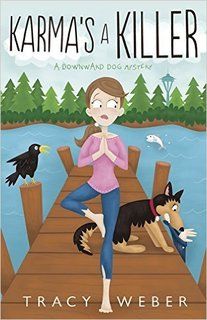 Synopsis:
When Seattle yoga teacher Kate Davidson agrees to teach doga (yoga for dogs) at a fundraiser for a local animal shelter, she believes the only damage will be to her reputation. But a few downward-facing dogs are the least of Kate's problems when an animal rights protest at the event leads to a suspicious fire and a drowning.
The police arrest Dharma, a woman claiming to be Kate's estranged mother, and charge her with murder. To prove Dharma's innocence, Kate, her boyfriend Michael, and her German shepherd sidekick Bella dive deeply into the worlds of animal activism and organizational politics. As they investigate the dangerous obsessions that drive these groups, Kate and her sleuthing team discover that when it comes to murder, there's no place like hOMe.
Review: Third book in the series, and Kate is beginning to feel like a dear friend. This time around, she is planning to teach yoga to dogs at a fundraiser for the local animal shelter. As usual, things don't go smoothly, and she finds herself in the midst of yet another murder investigation.
Kate is a fun amateur sleuth. She is feisty, sarcastic, and very humorous. In this book, she not only has to deal with the return of her mother, she also has to try to clear her of murder charges. Her feelings on the entire subject are mixed, and make for good reading.
There are plenty of plot twists in this story, along with the many intricacies of Kate's daily life. Her best friend, Rene, pregnant with twins, can't resist the temptation of sleuthing on her own, which adds to the fun.
I can't wait to see what Kate and Bella get up to next!
**I received a copy of this book in exchange for an honest review. All thoughts and opinions are entirely my own.**

Rating: Four stars
About the author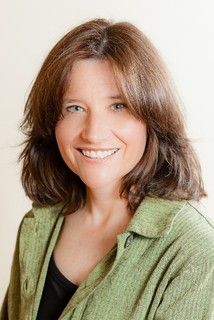 Tracy Weber is the author of the award-winning Downward Dog Mysteries
series featuring yoga teacher Kate Davidson and her feisty German shepherd, Bella. Tracy loves sharing her passion for yoga and animals in any form possible. Her first book, Murder Strikes a Pose
won the Maxwell Award for Fiction and is a 2015 Agatha award nominee for Best First Novel.
Tracy and her husband live in Seattle with their challenging yet amazing German shepherd Tasha. When she's not writing, Tracy spends her time teaching yoga, walking Tasha, and sipping Blackthorn cider at her favorite ale house.
Author Links
Purchase Links
Amazon
a Rafflecopter giveaway