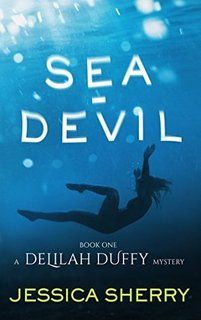 File Size:

4210 KB

Print Length:

448 pages

Publisher:

Jessica Sherry; 2 edition (July 24, 2015)

Publication Date:

July 24, 2015

Sold by:

Amazon Digital Services, Inc.

Language:

English

ASIN:

B012J1R1V8
Synopsis:
You never get over your first love. How about your first murder?
Tipee Island isn't just a beachy cool vacation spot, but the perfect place to start over. Gutsy, but error-prone, Delilah Duffy returns to the island she loved as a child and hopes to reinvent herself as manager of Beach Read Books. But, disappearing into the anonymous folds of a tourist town isn't easy. Her arrival in Tipee Island sets off a string of disturbing acts of vandalism. The message is clear - everyone wants to see her fail, even members of her own family. When a man is murdered in her bookstore the night before her grand opening, Delilah tops the short list of suspects. The evidence mounts along with the ill-will of islanders who don't want her there in the first place. If Delilah Duffy has a shot at the beach life, she must navigate a vicious family feud, outrun a dark past, and uncover the truth. It's not only her business, but her very life that's in danger.
Review: I love Delilah Duffy! She is a very realistic character--someone I'd love to get to know. She's not your typical cozy mystery heroine. There's no love triangle, and she's not an accident waiting to happen. She's trying to get her life together, with no help at all from her crazy aunts.
When a dead man is found in her shop, Beach Read Books, the night before her grand opening, Delilah becomes the main suspect.
There is quite a bit of history between some of the characters, and it is revealed bit by bit as the story progresses. I like that approach better than having it all dumped on a reader at the very start of the story, when you don't really know the characters and may not have any interest in their story.
I enjoyed every page of this story. It was a true page-turner for me. I was anxious to see what was going to happen next, and how the whole mystery would play out. I already have the second book in the series on my schedule for later this month, and expect it to be just as entertaining.
**I received a copy of this book in exchange for an honest review. All thoughts and opinions are entirely my own.**
Rating: Four stars
Jessica Sherry has been writing books all her life, even before she could put them down on paper. Her first novel, Sea-Devil: a Delilah Duffy mystery, debuted in 2013, was republished in 2015, and continues to receive great reviews. Jessica lives in Williamsburg, Virginia with her husband, two children, and dog, Brownie. She is a proud graduate of Virginia Tech. Her most favorite characters are Hercule Poirot, Miss Marple, and Jessica Fletcher. Other favorites are... sticky notes, coffee, chocolate, cozy conversations, and great stories. In between writing, she enjoys being with her family, working for and attending a great church, and of course, vacationing at the beach.