Murder Fir Christmas
(Christmas Tree Valley Mysteries)
Cozy Mystery
New Series
Print Length: 208 pages
Publisher: J. Lavene (December 1, 2015)
ASIN: B016APS2PI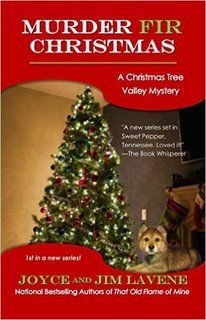 Synopsis:
Down the mountain from Sweet Pepper, Tennessee is Christmas Tree Valley, a place filled with hundreds of Christmas tree farms where generations of growers have made people's lives brighter. Yet even here in this quiet, postcard-perfect corner of the world, darkness and murder can still stalk the night.
Federal Wildlife Agent Bonnie Tuttle has always had a special gift with wild animals. It was one of the reasons she decided to train with the wildlife agency. She's spent the last ten years in Alabama working, but her mother needs her home and she's back despite all the bad parts of her life she hoped to leave behind.
Her first day home begins with a fire on the island in Sweet Pepper Lake and the death of Harvey Shelton, the wildlife agent she's supposed to replace. Bonnie manages to rescue dozens of animals from the fire – including a wolf pup that was shot with the same bullet that killed Harvey.
Now she's hot on the trail of Harvey's killer and trying to reintegrate the wolf back into the wild even though he seems to want to stay with her. Yet old memories persist in the small community where she grew up, and the killer now seems to believe that she has what he killed Harvey for. All she has to do is figure out what that is before it's too late.
Christmas Recipes included!
Review: I love that this series has ties to two others written by the Lavenes--The Sweet Pepper Fire Brigade, and Biscuit Bowl Food Truck. Sweet Pepper, Tennessee is one of my favorite fictional towns, and it was good to see so many of the people I know from that series turn up in this book. It was almost like going home for the holidays!
However it is my opinion that this series is going to be able to stand well on its own. Bonnie and Matthew are very personable, as are their friends and families. Bonnie's talent with animals is amazing, and the Native American legend tie-in is perfect. I also fell in love with the wolf puppy who has adopted Bonnie.
I look forward to many more stories from Christmas Tree Valley!
Rating: Five stars
Joyce and Jim Lavene write award-winning, bestselling mystery fiction as themselves, J.J. Cook, and Ellie Grant. They have written and published more than 70 novels for Harlequin, Berkley, Amazon, and Gallery Books along with hundreds of non-fiction articles for national and regional publications. They live in rural North Carolina with their family.
Author Links
a Rafflecopter giveaway