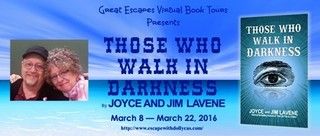 Those Who Walk In Darkness
(Jacks Jackson Mystery Book 1)
Historical Mystery
Print Length: 266 pages
Publisher: J. Lavene (March 8, 2016)
ASIN: B01AS8NN6Q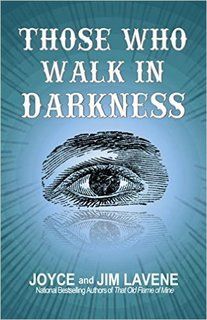 Synopsis:
Three years ago, Julia Jackson was a well to do young woman from Boston whose fiancé, Jonathon, was killed right before her eyes. Obsessed with finding the killer, a man whose face she saw only in a flash as he walked up and shot Jonathon, she leaves her family and her life behind. She starts a new life as 'Jacks' Jackson—a cigar smoking, dead eye, female Pinkerton agent…pretending to be a man.
Now Allan Pinkerton needs Jacks to find the man who kidnapped the wife and son of a railroad official, David Boyd. Their only clues are the severed finger from the man's wife, complete with wedding ring, and a map of the Qualla boundary, the Cherokee reservation in North Carolina.
Jacks doesn't like the way the whole thing sounds from the beginning. David Boyd isn't important enough to target for a kidnapping. And why travel so far with two hostages?
But Pinkerton tells her that he believes the man responsible for the kidnapping worked with Jonathon's murderer in a train robbery five years ago. Jacks agrees to go after the kidnapper with hopes of catching him before he can reach his home grounds.
Pinkerton insists that Jacks bring three men with her—Boyd, her new partner, and a Cherokee guide named Running Wolf, who's always watching her, like he's trying to figure it out.
Can Jacks catch the kidnapper with her secret—and her life—intact?
Review: Another great new series from my favorite, most prolific mystery writers. This one has several things which make it unique. First of all, the main character is a woman posing as a man, living in 1870s Chicago. Secondly, it is unusual to find stories about a strong female character in that time period. Third, there are mentions of Indian spiritualism throughout the story.
There are only two people who are aware of Julia's true identity, and they have agreed to keep her secret. Everyone else sees her as "Jacks" and treats her as a man. She finds herself in some interesting situations because of her secret.
The book is fast-paced and full of surprises. It really takes you back to the time period in which it is based, as well. The characters are fascinatingly written, and I look forward to more adventures with Julia/"Jacks" in the future.
**I received a copy of this book in exchange for an honest review. All thoughts and opinions are entirely my own.**
Rating:
Four stars
About the authors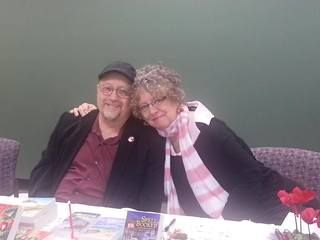 Joyce and Jim Lavene write award-winning, bestselling mystery fiction as themselves, J.J. Cook, and Ellie Grant. They have written and published more than 70 novels for Harlequin, Berkley, Amazon, and Gallery Books along with hundreds of non-fiction articles for national and regional publications. They live in rural North Carolina with their family.
a Rafflecopter giveaway