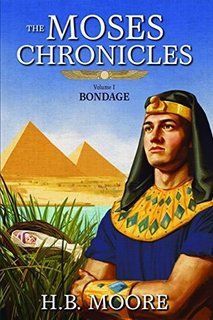 Synopsis:
A gripping, historical fiction account of the events that lead to Moses's flight into the wilderness, The Moses Chronicles: Bondage will take you back to a rich period of history replete with scandal, strife, love, and hope as God prepares a prophet to lead His chosen people.
Review: A fascinating rendition of the early life of Moses as well as the life of the rest of his Hebrew family during the same time period. We see the huge differences between the life of luxury Moses had in the court of the pharaoh and the sparsity of the life of the Hebrew slaves.
What I enjoyed the most about this book was that Heather makes Miriam a more well-rounded person than what we get from the small mentions of her in the Bible. It makes her seem more real, even though the storyline is mostly presumption.
Heather is my favorite Biblical fiction writer, and I look forward to reading the rest of this series.
Rating: Four stars
About the author
Heather B. Moore is a USA Today bestselling author of more than a dozen historical novels and thrillers, written under pen name H.B. Moore. She writes women's fiction, romance and inspirational non-fiction under Heather B. Moore. This can all be confusing, so her kids just call her Mom. Heather attended Cairo American College in Egypt, the Anglican School of Jerusalem in Israel, and earned a Bachelor of Science degree from Brigham Young University in Utah.
Alternate Goodreads Page: Heather B. Moore
Please join Heather's email list at:
http://hbmoore.com/contact/
Blog:
http://mywriterslair.blogspot.com
Website:
www.hbmoore.com
Twitter: @heatherbmoore
Facebook: Fans of H.B. Moore
Literary awards: 3-time Best of State Recipient for Best in Literary Arts, 3-time Whitney Award Winner, and 2-time Golden Quill Award Winner