Publisher: Crooked Lane Books (August 11, 2015)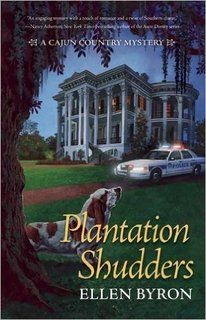 Synopsis:
Check in for some Southern hospitality in Plantation Shudders, the Cajun Country series debut from Ellen Byron.
It's the end of the summer and Prodigal Daughter Maggie Crozat has returned home to her family's plantation-turned-bed-and-breakfast in Louisiana. The Crozats have an inn full of guests for the local food festival–elderly honeymooners, the Cajun Cuties, a mysterious stranger from Texas, a couple of hipster lovebirds, and a trio of Georgia frat boys. But when the elderly couple keels over dead within minutes of each other–one from very unnatural causes– Maggie and the others suddenly become suspects in a murder.
With the help of Bo Durant, the town's handsome new detective, Maggie must investigate to clear her name while holding the family business together at the same time. And the deeper she digs, the more she wonders: are all of the guests really there for a vacation or do they have ulterior motives? Decades-old secrets and stunning revelations abound in Ellen Byron's charming cozy debut, Plantation Shudders.
Review: The fact that this series takes place on a Lousiana plantation which is now a bed and breakfast was enough to pique my interest. The author's well-written story and realistic characters were what kept me reading and will bring me back for more. And the great recipes included in the book are a delicious bonus!
The guests at the bed and breakfast and the residents of Pelican, Louisiana make for some hysterically funny conversations. I have a feeling that every book in this series will have some "interesting" characters who come to visit.
This is a very well-written debut novel, and I recommend it to anyone who is a fan of cozy mysteries.
Rating:
Four stars
About The Author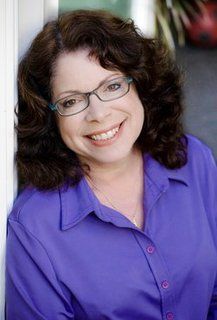 Ellen
Byron is a native New Yorker who loves the rain, lives in bone-dry Los Angeles, and spends lots of time writing about Louisiana. She attributes this obsession to her college years at New Orleans' Tulane University. Her debut novel,
Plantation Shudders: A Cajun Country Mystery
, launches on August 11
th
. Her TV credits include
Wings
,
Just Shoot Me
, and many network pilots. She's written over 200 magazine articles, and her published plays include the award-winning,
Graceland
. She is also the recipient of a William F. Deeck-Malice Domestic Grant. She's the proud mom of a fifteen year-old daughter and two very spoiled rescue dogs.
a Rafflecopter giveaway