Series: A Cait Morgan Mystery (Book 6)
Publisher: TouchWood Editions (October 13, 2015)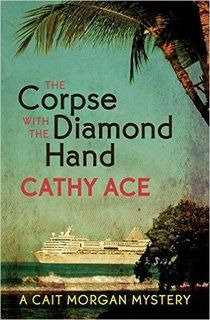 Synopsis:
Professor Cait Morgan and Bud Anderson have finally said 'I do'. To celebrate, they set sail on a romantic Hawaiian honeymoon cruise and, for nearly two weeks, the mystery solving newlyweds are worry-free. But then a man drops dead in the games room right in front of them and Cait and Bud can't help but lend their expertise.
To the others in the games room, the sudden death of Tommy Trussler—the ship's onboard card-game tutor—appears to have been from natural causes. But the professor suspects something much more sinister. With only two days left at sea—and thousands of possible suspects—the head of security is eager to solve the case and invites Cait and Bud to aid in the investigation. But the unique circumstances of an at-sea investigation mean their involvement cannot be official, and Cait must lean on her charm to conduct her own covert interviews.
Complete with laugh-out-loud moments and mouth-watering descriptions of the ship's cuisine, the case of the The Corpse with the Diamond Hand will once again have you marvelling at Cait's cleverness as she brings another murderer to justice.
Review: This is the first book I have read in this series. If you, like me, haven't read the previous five books, I would suggest that you do so before picking up this one. I think I would have had more understanding of the main characters and some of their conversations about the past if I weren't jumping in mid-series.
That said, however, I did still manage to enjoy this book on its own. The way that Cait and Bud work together, and relate to each other, is fascinating. The other characters in the book were fully described, and had well-rounded personalities.
The idea of a murder mystery on a cruise ship is one that has always interested me, and this one was definitely worth the read. I was drawn in from the beginning, and fell for a few red herrings in trying to find the murderer--and then was surprised to discover the true identity. And since they were on a cruise, we got great descriptions of gala dinners, elegant clothing, and tasty food. Too bad there weren't recipes for some of it! :)

**I received a copy of this book in exchange for an honest review. All thoughts and opinions are entirely my own.**
Rating: Four stars
Originally from Wales, now-Canadian Cathy Ace writes the Cait Morgan Mysteries. Her series has found her criminal psychologist, foodie sleuth stumbling upon Corpses with aSilver Tongue
, a Golden Nose
, an Emerald Thumb
,Platinum Hair
, Sapphire Eyes
and, now, a Diamond Hand
during her globetrotting. The winner of The Bony Blithe Award for Best Light Mystery in 2015, when not helping Cait solve traditional, closed-circle mysteries, Cathy's a keen gardener, ably assisted by her green-pawed chocolate Labradors.
a Rafflecopter giveaway