New Cozy Mystery Series
Hardcover: 288 pages
Publisher: Kensington (September 29, 2015)
ISBN-13: 978-1617739095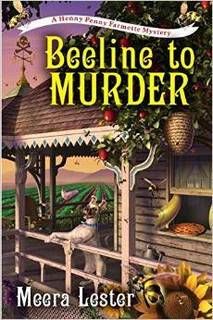 Synopsis: From peacekeeper to beekeeper…

After an injury forced her to leave the police department, Abigail Mackenzie started a second career as a farmer. Raising chickens, harvesting honey from her bee colony, and growing heirloom vegetables on her farmette in the beautiful Bay Area town of Las Flores, Abby has embraced all the benefits of a peaceful life.

But when she attempts to deliver her trademark honey to local pastry chef Jean-Louis Bonheur and finds him dead in his shop, her old investigative instincts kick in. After the coroner rules the death a suicide, the chef's handsome French-Canadian brother insists on hiring Abby to find out who really killed Jean-Louis.

With the patience of a farmer and the industriousness of a bee, Abby sorts through a swarm of suspects, including the chef's landlord, his protégé, an eccentric homeless woman, loan sharks, and a brawny biker. But as she closes in on the truth, she'll need more than her beekeeper suit to protect her from a killer's sting…

Includes farming tips and delicious recipes!
Review: A great debut for a cozy series that I look forward to following in the future. I enjoyed learning about beekeeping in the process of reading this mystery...it's a lot more fascinating than I would have expected it to be.
Other things I liked about the book were the excerpts from the Henny Penny Farmette Almanac at the beginning of each chapter, as well as the tips and recipes at the end of the chapters. I've saved a couple of the recipes to try out in the future!
The story is well-written and exciting. The action is nearly constant, but you don't feel the author is rushing any of the plot points. The characters are well-developed and personable--people I look forward to getting to know better as the series progresses.
**I received a copy of this book in exchange for an honest review. All thoughts and opinions are entirely my own.**
Rating: Four stars
A BEELINE TO MURDER, the first novel in Meera Lester's Henny Penny Farmette series (from Kensington Publishing), features a lady cop turned farmer. Library Journal noted the unique angle for the cozy mystery series is the farmette milieu, a world Meera knows well since she lives on a small farmette, east of the San Francisco Bay in Northern California.
Meera and her husband purchased the property in 2009 and she named it the Henny Penny Farmette (after the English children's book character). A fifth-generation farmer, Meera grows heirloom vegetables, tends dozens of fruit trees, keeps chickens and bees, makes jam from her organic fruits, and harvests honey.
Her mystery series comes after she wrote nearly two dozen other published nonfiction books, some translated into other languages. Meera's world travels inform her farmette series when characters from other places in the world come calling in the fictional small town of Las Flores.
a Rafflecopter giveaway