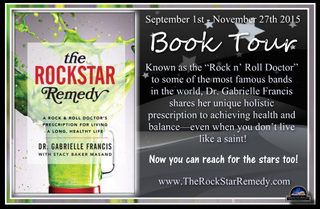 Title
: The Rockstar Remedy
Author
: Dr. Gabrielle Francis with Stacy Baker Masand
Publisher
: HarperCollins Wave
Pages
: 330
Genre
: Health and Wellness/Rock n Roll
Format
: Paperback/Kindle/Nook
Synopsis:
When we think of rock stars, we tend to think of extreme living: the infamous trinity of sex, drugs, and rock & roll. But the truth is, those myths are sexier than the facts. The best-kept secret of the music industry is that the majority of our rock & roll idols are committed to health—even when they party like, well,
rock stars
.

As a holistic physician and massage therapist to many of the music world's elite, Dr. Gabrielle Francis knows this truth firsthand. Over the course of her career, she has helped some of the biggest names in the music industry look and feel great, despite an exhausting lifestyle that both demands discipline and welcomes overindulgence. In The Rockstar Remedy, she shares the program that has helped these stars repair, recover, and refuel so that they can perform at their best.

In many ways, the health obstacles facing Dr. Francis's most famous clients are the same as those facing her everyday patients. Being overscheduled, sleep deprived, on the road, or occasionally eating or drinking to excess aren't lifestyle habits unique to the music industry—they are the same challenges we encounter all the time.

In The Rockstar Remedy, Gabrielle offers unique strategies for boosting your energy and looking and feeling your best, even when the realities of work, scheduling, parenting, and life seem to stand between you and your health goals. She explains that your health exists on a spectrum, and the simple act of making better choices every day—even if they may not always be the best choices—helps achieve balance in both mind and body. Gabrielle also shares her popular "damage-mitigation techniques," which offer simple ways to reverse the negative effects caused by less-than-perfect choices.

With exclusive interviews from artists such as Steven Tyler, Dave Navarro, Tommy Lee, Eve, and members of Megadeth, Def Leppard, Anthrax, and many more, The Rockstar Remedy offers an accessible, fun, and effective plan for staying healthy and happy in the chaos of our daily lives.
For More Information
Review: I'm a bit on the fence with this book. I can see things in it that will be useful to me in regard to over-scheduling, or not getting enough sleep, doing things in moderation. But as far as the detox suggestions, they're not something I have any interest in trying.

There are some natural remedies included for a variety of common health issues, and I do plan to try some of those in the future. I also enjoyed all the quotes from the various rock stars that are sprinkled throughout the book.
As with any lifestyle book, if you do read it, take away what applies to you and leave the rest. If you do, I'm sure you will enjoy the experience.
Rating: Four stars



Dr. Gabrielle Francis
has been practicing natural medicine for more than thirty years. She is a Naturopathic Doctor, Chiropractor, Acupuncturist, and Licensed Massage therapist. Dr. Francis currently practices in New York City as
The Herban Alchemist
. She also operates
Backstage Alternative
, which is her natural medicine road show that provides chiropractic, massage, acupuncture, nutrition and herbal remedies to performing artists on tour.
Dr. Francis received her formal medical training at National College of Chiropractic and at Bastyr University. She has extensive training in Alternative Cancer Therapies, Environmental Medicine, Functional Medicine, Mind-Body medicine, and Bio-Identical Hormone therapies. Following her formal medical education, Dr. Francis travelled extensively to various parts of the world studying medicine with indigenous healers in countries such as China, India, Thailand, Bali, Brazil, Morocco, Peru, Guatemala, Ecuador, Belize, Mexico, Egypt, and Mali.
Stacy Baker Masand is a health, fitness and lifestyle editor whose work has appeared in magazines such as

In Style

,

Marie Claire

,

Self

,

Shape

,

Fitness

,

DuJour

and

Women's Health

. She's co-author of

New York Times

bestseller Your Best Body Now. Stacy is currently developing projects for both small and big screen.