Genre: Thriller/Suspense
Publisher: Digital Contact
Publication Date: September 30, 2015
Pages: 322
ASIN: B01431LVOK
Synopsis: 3 massacres, 2 detectives, 1 writer, 0 answers
Freelancer Kendall Jennings usually writes fluff pieces for women's magazines to pay the bills. When a horrific massacre occurs at Café Amaretto, she scores an exclusive interview with a survivor. Suddenly, she's the go-to reporter for the crime.
Investigating veteran detective Lance O'Grady and his partner Trip are tasked with finalizing the open and shut case. Seven people are dead at the hands of an unprovoked killer wielding an axe. It seems simple.
Then another mass killing occurs. This time, arson, and ten eldercare facility residents die in the blaze. Both killers die at the scene. The crimes have no motive, and Lance O'Grady is left wondering how evil can strike twice.
Then it happens again. Even more shocking: a mother with a gun goes on a rampage at a family birthday party.
The killers share one odd detail: none have a murderer's profile. No history of violence, no connection to terrorists, no vendettas. Ordinary citizens suddenly became killers.
Drawn deeper inside the crime investigation, Kendall finds herself not only clashing with O'Grady but also struggling with old demons. O'Grady resents Kendall's involvement as her presence provokes memories of a personal tragedy.
O'Grady and Kendall are caught up in a plan greater reaching than the crimes. They just don't know it. Someone is sending a message. And unless they can decipher the meaning, very soon, many more will die.
Deadly Messengers is a page-turning thriller taking readers into the minds of mass killers in all their disconcerting madness. It poses the question: Is there a killer lurking inside everyone? The answer could prove more frightening than the crimes.
Review: This is definitely not your ordinary serial killer story, by any means. It involves seemingly unconnected crimes that make no sense, and draws you in as you, along with the main characters, search for the connections and the motives.
The author has an engrossing, enjoyable writing style which grabs you from the first page and never lets go. We get inside the heads of the characters, which provides another layer of information not always found in this sort of story. The author also finds a way to insert humor into the story on occasion, which can be a difficult thing to achieve with this genre. In her case, it works perfectly.
I'm not a fan of gory scenes, and I can tell you that even though the various killings are described extremely well, there was not a lot of unnecessary discussion of the condition of the victims. And when the mastermind's identity was revealed, I was completely caught off guard, as I was too busy wondering what was going to happen next to actually try to figure out who was pulling the strings.
Kudos to Ms. May for an amazing read.
**I received a copy of this book from the author in exchange for an honest review. All thoughts and opinions are entirely my own.**
Rating: Four stars
About the author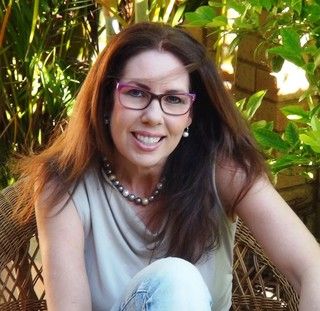 I was four when I decided I would be a writer, packed a bag, and marched down the road looking for a school. But for forty-six years, I suffered from life-gets-in-the-way-osis. Setting a goal to write just one page a day cured me in 2010. This discipline grew into an addictive habit that has since borne several novels, and dozens of short stories and novellas--many of which are published award-winners in Australia, the US and the UK.
My childhood reading diet consisted of Edgar Allen Poe, O'Henry, and Alfred Hitchcock Presents, plus horror comics like Tales From the Crypt. Anything out of this world like The Twilight Zone and Outer Limits had me glued to the television.
Inspired by these classics, I attempt to pen tales that are simply about the story and the characters and not about fancy words or beautiful descriptions. At the end of my stories I hope, wonderful reader, that you will feel you've enjoyed a journey into the fantastic with a neat twist at the end.
Every day I pinch myself that I am able to do what I love and be in control of every facet of it. And I can wear my track suit pants and slippers while doing it. Bliss.
Most days I'm just an average mother and wife living in Perth, Western Australia, but this darn imagination of mine keeps constantly venturing into the crevices of dark worlds, whether I want to go there or not.