New Cozy Series
• Series: Country Store Mysteries
• Mass Market Paperback: 304 pages
• Publisher: Kensington (October 27, 2015)
• ISBN-13: 978-161773925


Synopsis:
In this freshly baked series, author Maddie Day lifts the lid on a small town in southern Indiana, where a newcomer is cooking up a new start–until a murderer muddles the recipe…
Nursing a broken heart, Robbie Jordan is trading in her life on the West Coast for the rolling hills of southern Indiana. After paying a visit to her Aunt Adele, she fell in love with the tiny town of South Lick. And when she spots a For Sale sign on a rundown country store, she decides to snap it up and put her skills as a cook and a carpenter to use. Everyone in town shows up for the grand re-opening of Pans 'n Pancakes, but when the mayor's disagreeable assistant is found dead, Robbie realizes that not all press is good press. With all eyes on her, she'll have to summon her puzzle-solving skills to clear her name, unscramble the town's darkest secrets, and track down a cold-blooded killer–before she's the next to die.
Review: A fun new series from an author whose other work I have enjoyed in the past. The location is perfectly described and very quaint (and I think it's the first cozy series I've read that takes place in Indiana!), the characters are charming and engaging, and the entire experience is fun.
I loved the way the main character makes her mother, who is deceased, a major part of the story. She thinks about/talks about her often, as does her aunt. It's just the sort of thing you would expect in real life.
There are so many great characters in this book that I know there are going to be a lot of adventures to come for Robbie. And there's romance brewing, too!

The murder mystery was very well developed, and kept me guessing to the very end. I have to say, though, that even in the short time we "saw" Stella alive in the beginning of the book, I was not surprised or even sad to find out she was the victim. :)
I can hardly wait for my next visit to Pans 'n' Pancakes!
Rating: Four stars
About the author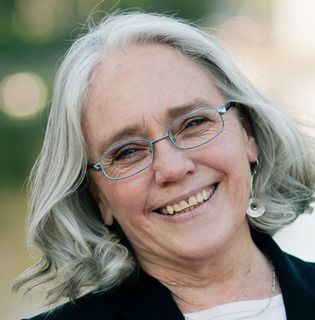 MADDIE DAY (aka: Edith Maxwell) is a former farmer of a certified organic farm, holds a Ph.D. in Linguistics, and is a member of Sisters in Crime and Mystery Writers of America. Her short stories have appeared in the anthologies Stone Cold, Fish Nets, Burning Bridges, Thin Ice, Riptide, and The Larcom Review. She lives with her beau and three cats in Massachusetts, where she's currently working on her next Maddie Day mystery when she isn't out gardening.
Purchase Links
Amazon
a Rafflecopter giveaway