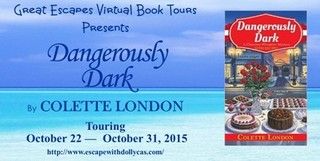 Cozy Mystery
2nd in Series
Publisher: Kensington (September 29, 2015)
Mass Market Paperback: 352 pages
ISBN-13: 978-1617733475
E-Book ASIN: B00RRT323O


Synopsis:
Chocolate-whisperer Hayden Mundy Moore has just arrived in Portland, Oregon, where she's about to scarf soufflés and sip cacao-based cocktails at her friend's engagement party. Fresh from nabbing her first candy-covered killer, the last thing Hayden wants to do is mix her love of chocolate with criminal mischief again. But then the groom-to-be turns up dead before beginning his renowned Chocolate-After-Dark tour. . .
Hayden's friends insist that Declan's death was a freak accident, but she knows there's no mistaking the bitter aftertaste of homicide. In the midst of habañero hot chocolate and mocha-chunk gelato, a choco-crazed killer waits to strike again. Hayden will need to use more than her extraordinarily gifted taste buds to bring this murderer to justice, but she just might have bitten off more than she can chew in the process.
Review: This is the sequel to Criminal Confections, which I just recently read and enjoyed. Once again, there is a lot of discussion about chocolate, which was the hook that got me started on this series. However, there were a few issues I found with this story.
Hayden is a bit flighty and impulsive, and I do hope that she will begin to grow and mature as the series continues. I spent basically the first third of the book wondering if there even was a murder, as everyone else seemed content to believe Declan's death was a tragic accident.
The story did pick up a bit after that point, however. We learn that Declan might not have been who he seemed, and that several people had reasons to want him dead. Once again, Hayden finds herself in danger while she tries to get to the truth.
So far, my favorite character in this series is the mysterious Travis Turner, Hayden's financial advisor. She's never met him, only talked to him on the phone, and he stays aloof and mysterious in his interactions with her. I hope we get to know him better as the series goes on.

Looking forward to book 3, to see where Hayden goes next, and whether or not the character begins to evolve.
Rating: Four stars
Colette London is the pseudonym of a best-selling novelist who's published more than three dozen books worldwide.
Twitter: @Colette__London
Purchase Links
Amazon
a Rafflecopter giveaway