Publisher: Gemma Halliday Publishing (July 15, 2015)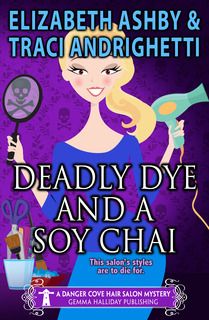 Synopsis:
Native Texan Cassidi Conti was expecting to face some obstacles when she moved to Danger Cove and opened The Clip and Sip, a hair salon that gives away free drinks. What she wasn't counting on was a client dying during a dye job. But when eighty-year-old Margaret Appleby comes in for her biweekly appointment, that's exactly what happens: Margaret drinks her usual soy chai, dozes off under the dryer…and doesn't wake up. Now The Clip and Sip is under suspicion, clients are wary, and Cassidi is on a mission to prove that while her styles may be killer, her employees are innocent! But as Cassidi wades through the myriad of suspects in the small, costal town, the killer sets his sights straight on everyone's favorite stylist. If Cassidi doesn't watch her back, she may just end up Danger Cove's latest fashionable victim.
Review: This is my first read in the Danger Cove series, which has a fascinating concept. It is actually seven series in one, with each sub-series set in a different business around the town of Danger Cove. They are all written by Danger Cove resident Elizabeth Ashby, with the "assistance" of several well-known cozy mystery writers.

This book is the first in the Hair Salon Mysteries, which features The Clip and Sip and its owner Cassidi Conti. From the very first chapter, we are drawn into Cassidi's troubles with the residents of Danger Cove, as well as her frustration at trying to determine who murdered her Uncle Vincent, the previous owner of the house/business. When one of her customers dies under the dryer, life gets even more complicated.
In spite of all the mysteries, this book is full of fun. I can't remember the last time I laughed so much over a book---or read so many references to the color blue! The storyline draws you in and keeps you reading to the end. All of the major characters have well-developed personalities, and should be fun to get to know as the series progresses.
This is definitely a fun way to jump into the excitement that is Danger Cove.
Rating: Four stars
About the author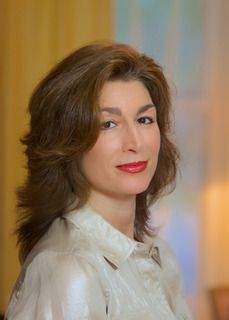 Traci Andrighetti is the national bestselling author of the Franki Amato mysteries and the Danger Cove Hair Salon mysteries. In her previous life, she was an award-winning literary translator and a Lecturer of Italian at the University of Texas at Austin, where she earned a PhD in Applied Linguistics. But then she got wise and ditched that academic stuff for a life of crime–writing, that is.
a Rafflecopter giveaway