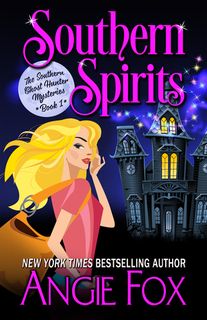 Synopsis:
When out of work graphic designer Verity Long accidentally traps a ghost on her property, she's saddled with more than a supernatural sidekick—she gains the ability see spirits. It leads to an offer she can't refuse from the town's bad boy, the brother of her ex and the last man she should ever partner with.
Ellis Wyatt is in possession of a stunning historic property haunted by some of Sugarland Tennessee's finest former citizens. Only some of them are growing restless—and destructive. He hires Verity put an end to the disturbances. But soon Verity learns there's more to the mysterious estate than floating specters, secret passageways, and hidden rooms.
There's a modern day mystery afoot, one that hinges on a decades-old murder. Verity isn't above questioning the living, or the dead. But can she discover the truth before the killer finds her?
Thoughts:
A great new paranormal cozy series. Verity is sassy and fun, and I love the fact she has a pet skunk, Lucy. Then she accidentally grounds Frankie to her property, and the fun really begins. He helps her be able to see other ghosts as she tries to solve mysteries. The stories of all these spirits just add to the main story, as does the possible blossoming relationship with someone she never expected to care about, all things considered.
I loved this story, and I was totally blindsided by the murderer, as was Verity. Can't wait to see what this crew gets into next!
**I received a copy of this book from NetGalley in exchange for an honest review. All thoughts and opinions are entirely my own.**
My rating: Five stars