a Miller's Creek novel and
Christian contemporary romance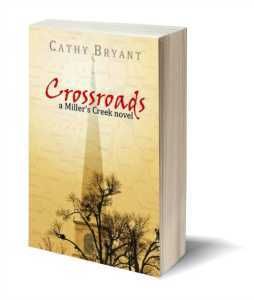 A former soldier battles
for the soul of a prodigal
...
After a devastating divorce, a bitter single mom and atheist starts her own real estate company in the nostalgic and picturesque town of Miller's Creek, Texas. Then her young
daughter's disturbing symptoms lead doctors to discover that her leukemia has relapsed. With her new life now turned upside down, Mara Hedwig struggles to keep her business afloat. And her daughter's worsening condition forces her to rethink her beliefs about Carter Callahan and his God. Will Mara make the return to Christian faith in the face of life's greatest challenge?
An ex-military operative struggles with the return to civilian life while coping with his rebellious teen-aged daughter. During a house-search, C
arter meets Mara, a headstrong R
ealtor who wants nothing to do with his God. But when Mara's little girl is diagnosed with leukemia, the clock begins ticking for him to convince Mara to return to a life of faith. Just as he seems to be making headway, circumstances beyond his control throw his efforts into a tailspin. Can Carter learn to rest in the sovereignty of God?
(You can also snag a
free digital copy of TEXAS ROADS by subscribing to Cathy's monthly newsletter
. Your e-mail will be kept confidential, and you can unsubscribe at any time.)
My review:
Although this is the sixth book in the Miller's Creek series, it is also a stand-alone novel. There is no feeling of "inside information" that you would know from the previous five, and no being lost in discussions of previous events.
This is an emotional yet uplifting story of two single parents who are able to help each other through the current trials in their journey to raise their daughters. It is also the story of a prodigal--someone who has lost her faith in God and is being led back to Him through the people who surround her on a daily basis.
There are a variety of issues involved in the plot of this story: divorce, mental religious abuse, childhood illness, eating disorders, dysfunctional families, to name a few. They are all handled in a realistic yet loving way by the author.
All of the characters are easy to relate to throughout the story, even though each of them have moments where you may not always LIKE them. :)
I hope that we will get further looks into their lives in the future!
**I was given a copy of this book by the author in exchange for an honest review, and all thoughts and opinions are entirely my own.**
My rating: Five stars
Amazon best-selling author Cathy Bryant writes Christian fiction set in the heart of Texas. Her popular romance and romantic suspense novels take place in the fictional town of Miller's Creek, where folks are friendly, the iced tea is sweet, and Mama Beth's front porch beckons.
All the Miller's Creek novels have been on the Amazon Best-Seller list
and are rated at 4.5 stars or higher on Amazon
.
Her debut novel, TEXAS ROADS, was a 2009 ACFW Genesis final
ist. Since then five
other stand-alone novels have been added to the series, one of which was a reader-nominated 2013 Grace Award nominee (PILGRIMAGE OF PROMISE). Readers have compared her work to that of Karen Kingsbury and Nicholas Sparks.
A native Texan, Cathy currently resides in the beautiful Sangre de Cristo mountains of northern New Mexico with her minister husband of over thirty years. She's written devotions for The Upper Room devotional magazine, two devotional books
in collaboration with other Christian authors
, and for online sites. She also
has released a Bible study book
, THE FRAGRANCE OF CRUSHED VIOLETS. In addition to her writing, she enjoys thrift store shopping, romping in the great outdoors, and
mini-farming.
To learn more about Cathy and her books, visit her website
at www.CatBryant.com or make contact with her in these places:
|
Facebook
|
Twitter
|
Pinterest
|
Goodreads
|
Amazon
|
YouTube
|
Google+
What: CROSSROADS Book Launch Party
Where: Facebook (from the comfort & convenience of your own home)
When: April 30, 2015 ~ 7:00-8:30 p.m. (Central time
Why: To celebrate the book launch of CROSSROADS (a Miller's Creek novel and Christian Romance by Cathy Bryant)
LOTS of Fun, Games and Prizes!
Prizes Include:
Miller's Creek pens, tote bags, t-shirts, mugs, digital books, autographed print books, Amazon gift cards, and
an Amazon Kindle Fire HD6!