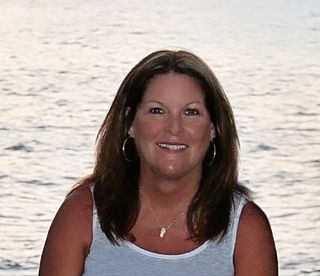 Kathi Daley lives in the beautiful alpine community of Lake Tahoe with her husband Ken and dog Echo. When she's not writing she enjoys hanging out on the beach with her children and grandchildren. During the summer she enjoys hiking, kayaking, mountain biking, wakeboarding, and sunset cruises on the lake. During the winter she enjoys cross country skiing, snowshoeing, and curling up by a fire with a good book.
Kathi uses her mountain home as inspiration for her books, all which include appearances by the wildlife she shares her life with.
Kathi writes the Zoe Donovan Mystery series which is set in Nevada and started in 2013. This is a cozy-lite mystery series set in the small lakeside town of Ashton Falls, a quaint village with a big heart but a tiny local budget. Each short novel focuses on a simple murder mystery against the backdrop of family holidays and quirky festivals designed to bring in the almighty tourist dollar. Zoe is a free-spirited animal lover who, along with her dog Charlie, works as an animal rehabilitation and relocation officer. If there is murder afoot you can bet that Zoe, along with friends Zak, Levi, and Ellie, will be on the case.
She also writes the Tj Jensen Paradise Lake Mystery series. This is a full-length cozy mystery series set in the alpine town of Serenity, Nevada, on the idyllic north shore of Paradise Lake. Serenity is home to Maggie's Hideaway, the lakeside resort where high school coach and teacher Tj Jensen lives with her father, grandfather and half-sisters Ashley and Gracie. Amidst the setting of snowy winters and lazy summer days, Tj is drawn into a series of murder investigations which she must solve with the help of the new deputy sheriff, Dylan Caine.
A third series written by Kathi is the Whales and Tails series. This features Caitlin Hart, who runs Coffee Cat Books with her best friend Tara, and helps her Aunt Maggie run the Harthaven Cat Sanctuary--and in her "spare time" rescues cats and tracks down killers. Set on Madrona Island, a fictional island off the coast of Washington State, fourth-generation islander Caitlin is struggling to make her way as the economy and culture of the island evolves.
Kathi has recently begun something a little different, a teen mystery series. Seacliff High features student Alyson Prescott, a sixteen-year-old girl in witness protection. Alyson and her friends tackle a variety of mysteries that come their way.