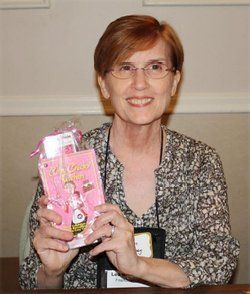 Leann
Sweeney
was born and raised in Niagara Falls and educated at St. Joseph's Hospital and Lemoyne College in Syracuse, NY. She also has a degree from the University of Houston in behavioral science and worked for many years in psychiatry and as a school nurse; she now writes full time.
She began crafting fiction in 1980, fulfilling her lifelong dream. After perfecting her skills with classes and a small fortune in writing books, she joined MWA and Sisters in Crime. Now she's the creator of two NAL/Obsidian mystery series: The Yellow Rose Mysteries and the Cats in Trouble Mysteries.
The Cat, The Quilt and The Corpse
, first in the Cats in Trouble Mysteries
was the #1 bestseller on the Independent Mystery Bookseller's List when it debuted and made several top twenty lists for 2009 at bookstores across the country.