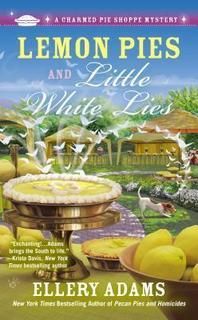 Synopsis:
Ella Mae LeFaye's Charmed Pie Shoppe has become a phenomenon beyond her wildest dreams, providing the enchanted town of Havenwood, Georgia, with spellbinding desserts and magical pies. Her personal life is also heating up as she takes on the responsibilities of leadership within her magical community. In fact, the only thing weighing her down is the fact that handsome Hugh Dylan won't return her calls…
Still, when Havenwood is rocked by a series of mysterious deaths, Ella Mae must put romantic longings aside—especially when she realizes that the mystical symbols left at each crime scene are dangerously personal. Now she will have to whip up all her supernatural skills to uncover a killer out to settle an ancient score—before the murderer devastates everything Ella Mae is determined to protect.
Thoughts:
This is the fourth book in The Charmed Pie Shoppe series, and it's my favorite of the series so far. Ella Mae seems stronger and more confident this time around. She and her family are always fun to read about, as the stories have humor and romance as well as the mystery.
The storyline is fascinating, with lots of historical references. The scene at Mrs. Mercer's funeral was so emotional that it had me in tears. Ella Mae's connection with the butterflies is touching and sweet.
I hope to try out some of the recipes included at the end of the book--they all sound so delicious!!!
**I was given a copy of this book by the author in exchange for an honest review. All thoughts and opinions are entirely my own.**
My rating: Four stars