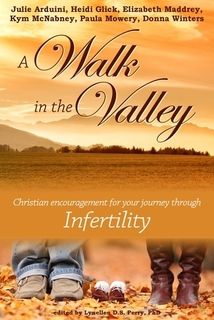 Synopsis:
Everyone's journey through infertility is different. Even women who have the same physical problems will have different courses of treatment, different responses, and different emotional ups and downs as they walk this path. But we also have so much in common: the hurt, anger, frustration, pain, sorrow, hope and joy that we have experienced along the way.
We are women who have experienced infertility. Some of us have gone on to conceive, others have adopted, and others remain childless. All of us have found peace in the loving arms of our Father God at the end of our journey. We want to share our experiences and thoughts with you. It is our hope and prayer that you'll be encouraged.
This devotional workbook starts with how each woman discovered her infertility, then explores the diagnostic testing pursued, how they processed the official diagnosis, what decisions had to be explored regarding treatment, their experiences during infertility treatment (including pregnancy, miscarriage, and childbirth), and finishes with their experiences in remaining childless, adoption, foster care, child sponsorship, and the emotional healing regardless of the outcome of their infertility journey.
Each devotional has a Scripture focus and questions for thought and discussion.
Thoughts: I have never dealt with infertility personally, but reading these stories and devotionals from ladies who HAVE been on the journey gave me a great deal of insight into their situations.




Each of the ladies lead you through their personal journey, being totally honest about their thoughts, feelings, and experiences. Each of them has had a uniquely personal journey, so it's not as though you are reading six accounts of the same thing. If you are going through infertility, or know someone who is, you can find the segments which apply to your/their situation and read those, or you can read the whole book to find out what others go through as well.




The most important aspect of this book for me is that it lets women know they are never alone, and that they are never "less" as a woman for coping with infertility.




**I was given a copy of this book by the publisher in return for an honest review. All thoughts and opinions are entirely my own.**




My rating: Five stars