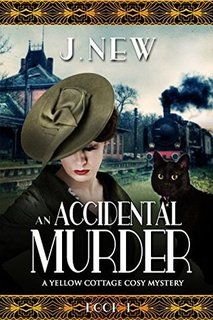 Synopsis:
Young widow, Isobella Bridges discovered and fell in love with The Yellow Cottage as a child. Many years later she returned to the Island, discovered it was for sale and bought it on a whim. Or so she thought.
She had no idea at the time how much it would change her life, nor that it was yet to reveal all it's secrets. Ones that even Ella couldn't imagine.
She purchased the cottage from an old lady, but this was no ordinary old lady. And she left her cat, but this was no ordinary cat.
Ella soon realises that this isn't the only gift the old lady left.
Having only been in residence a few short weeks, and still unpacking boxes, she receives a telephone call from her brother, inviting her up to London for Sunday lunch.
This call sets in motion a series of events that puts Ella's life, and those of the people closest to her in danger.
'An Accidental Murder' is a cosy amateur sleuth novella, with a difference. Set in 1930's England, it is the first in the series of The Yellow Cottage mysteries.
*Please note this is a novella of around 25,000 words.*
Thoughts:
This was a fun easy read that, had I had the free time, I could have finished in one sitting. It is set in 1930s England, where Ella lives in a little cottage which came complete with a ghost cat whom she names Phantom.
Ella has the ability to see other ghosts as well, which leads to the mystery to be solved...was young Millicent's death really an accident, or is Ella's new friend Peter a cold-blooded killer? With the help of her brother and sister-in-law, as well as the Police Commissioner, Ella is determined to get to the truth, and allow Milly to move on to the other side.
**I was given a copy of this book by the author in return for an honest review. All thoughts and opinions are entirely my own.**
My rating: Four stars