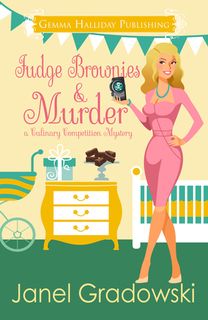 File Size:

1439 KB

Print Length:

209 pages

Simultaneous Device Usage:

Unlimited

Publisher:

Gemma Halliday Publishing (December 13, 2015)

Publication Date:

December 13, 2015

Sold by:

Amazon Digital Services, Inc.

Language:

English

ASIN:

B019D3Z1P8
Synopsis:
From bestselling mystery author Janel Gradowski comes another deliciously deadly mystery...
Culinary whiz and reluctant amateur sleuth, Amy Ridley, has a lot on her plate. Her very pregnant best friend, Carla, can barely move from her couch per doctor's orders. So Amy is tasked with preparing meals for the expanding family along with baking endless pans of brownies to quench Carla's pregnancy cravings. Not only is she playing chef, but she's also trying to convince the mommy-to-be that she needs to have a baby shower. But when a restaurant owner is murdered at a blogging conference, Amy finds herself in a race to catch the killer before the baby is born.
As Carla's baby bump gets bigger, so does the list of suspects. While Amy pares down the potential murderers and staves off disgruntled cooking competition rivals, the clock ticks down, the baby's arrival draws closer, and the danger grows stronger! If Amy doesn't watch her back, she may be the next member of the competition going down.
**Recipes Included!**
Review: This is the fourth book in the Culinary Competition series, but it works well as a standalone read also.
This time around, Amy is spending most of her free time creating new and different brownie recipes to satisfy the pregnancy cravings of her dear friend Carla, as well as trying to convince Carla to allow her to host a baby shower.
Amy takes a break from all the baby preparations to attend a blogging conference, and when a restaurant owner is murdered, Amy finds herself in the middle of yet another murder investigation.
Amy can come across as a little pushy at times, but if you have read more than just this book, you know that it's actually a rather endearing part of her personality. This time around, we even get to see a little more of Amy and Alex's relationship and how they interact.
This time around, Carla's husband, a police detective, actually requests Amy's help in solving the case. He has his own motives for asking her, but at least this time she doesn't have to go behind his back to do what she was going to do anyway.
The plot kept me guessing at the killer till the very end, and the reveal was perfect. I am already looking forward to the next book in the series.

**I received a copy of this book from the author in exchange for an honest review. All thoughts and opinions are entirely my own.**

Rating: Four stars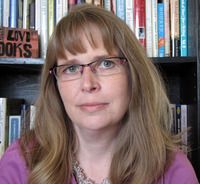 Janel Gradowski grew up, and still lives, in the mitten of Michigan. She is a wife and mother whose writing companion is a crazy Golden Retriever named Cooper. In the past she has worked many jobs. Renting apartments, scorekeeping for a stock car racetrack and selling newspaper classified advertisements are some of the experiences that continue to provide inspiration for her stories. Now she writes fiction and is also a beadwork designer and teacher. She enjoys cooking and is fueled by copious amounts of coffee.
Her work has appeared in many publications, both online and in print. She is the author of three series. The Culinary Competition Mystery Series stars Amy Ridley, a former hair stylist with a passion for entering cooking contests. Her first women's fiction series is The Bartonville Series. Each volume contains stories ranging from flash to novella length. All of the stories are set in Michigan every volume contains accompanying recipes. The 6:1 Series features themed collections of her stories that are based on the title's theme.