Paperback:

448 pages

Publisher:

Demonbreun Press (September 2, 2012)

Language:

English

ISBN-10:

0615690955

ISBN-13:

978-0615690957
Synopsis:
Everybody, including her mother, believes that Kate's father committed suicide. Determined to prove otherwise, Kate sets out on a fascinating and sometimes hysterical journey through antebellum law and medicine. Set in 1860s Nashville and told with a biting wit, determined Kate finally discovers the truth - but at what cost? Will she ruin her own life trying to defend the life of her dead father?
Review: A really great historical fiction novel, which was obviously extensively researched. The details about "medical" treatments of the time were fascinating. The author's careful attention to detail puts the reader right in the era.
Kate is a strong-willed and determined young woman trying to clear her father's name and remove the humiliation of suicide from her family. Although the book is set in the Civil War era, and the characters are seen dealing with issues surrounding the war, the main focus of the story is Kate and her life journey.
This is a very well-written story that keeps you reading and turning the page. The mystery of Kate's father's death will keep you guessing, and I don't think you will be surprised by the way it all plays out.

Kate grows up a great deal over the course of the novel, and that progression is both entertaining and at times heartbreaking. There is no shortage of enjoyable other characters along the way, either.

I would highly recommend this to anyone who enjoys Civil War era historical fiction.

**I received a copy of this book in exchange for an honest review. All thoughts and opinions are entirely my own.**
Rating:
Four stars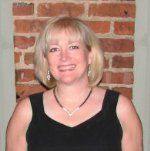 I was the little nerdette with a library card in my kindergarten hand, reading the kiddie books and planning what I would write. Come college time accounting seemed a more certain way to bring in a dollar so journalism was a minor. Writing was put on the back burner while dollars were made and kids and parents were raised, however, reading was always on the front burner. Probably my biggest influences would be Susan Howatch, Diana Gabaldon and Margaret Mitchell. A conversation with my husband 20 years earlier about suicide vs. murder percolated in the back of my mind and then announced it wanted to be written. I obeyed and out came The Doctor's Daughter: Journey to Justice. The history of Nashville during the Civil War is just so interesting and so important at that time but most people won't sit down with a history book so I sneaked the history and the antebellum law and medicine in with a good story.
And to all of you who have been asking - yes, a sequel is on the way!