Read to Death
(Read Em and Eat Mystery)
Cozy Mystery
3rd in Series
Mass Market Paperback: 304 pages
Publisher: Berkley (July 5, 2016)
ISBN-13: 978-0425270301
E-Book ASIN: B016JPTN5W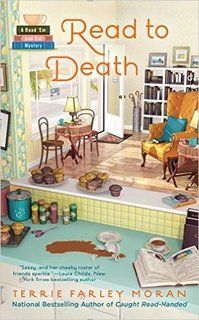 Synopsis:
The national bestselling author of Caught Read-Handed revisits Fort Myers Beach, Florida, where the proprietors of a local bookstore café occasionally take a stab at solving murder…
At their
seaside
Read 'Em and Eat bookstore café, Sassy Cabot and
Bridgy
Mayfield offer fresh scones, great books, and excellent detective work…
With their book club season wrapping up with The Florida Life of Thomas Edison, Sassy and
Bridgy
decide to take their group on a day trip to the beautiful Edison and Ford Winter Estates. Hiring driver Oscar
Frieland
, who's known for his colorful stories and love of the café's Robert Frost fruit tartlets, the bibliophiles set off for a day of sunshine and history.
After a lovely excursion, the club returns to the café for lunch and a book discussion, but the group falls silent after Oscar is found dead in his van. The sheriff's deputies have some questions of their own for the group, and if the ladies don't find some answers soon, the next book they read might be from a prison library.
Review: While this is the third book in the series, it is the first I have read. It was easy to get to know all the characters without going back to the first two books.
The characters are fun and realistic, and the mystery keeps you turning pages, anxious to see how it all plays out. I read the story in one day, because I simply couldn't put it down!
**I received a copy of this book in exchange for an honest review. All thoughts and opinions are entirely my own.**
Rating: Four stars
About the author
Short-listed twice for The Best American Mystery Stories, Terrie Farley Moran is delighted to introduce mystery fans to the Read 'Em and Eat café and bookstore, which debuted with Well Read, Then Dead
. The only thing Terrie enjoys more than wrangling mystery plots into submission is playing games and reading stories with any or all of her grandchildren.
a Rafflecopter giveaway