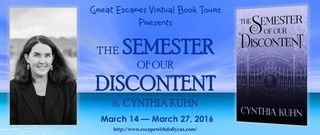 Publisher: Henery Press (April 5, 2016)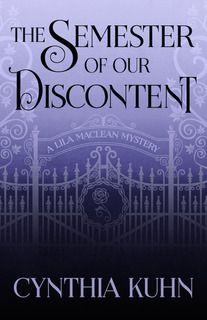 Synopsis:
THE FIRST IN A NEW SERIES!
English professor Lila Maclean is thrilled about her new job at prestigious Stonedale University until she finds one of her colleagues dead. She soon learns that everyone, from the chancellor to the detective working the case, believes Lila—or someone she is protecting—may be responsible for the horrific event, so she assigns herself the task of identifying the killer.
More attacks on professors follow, the only connection a curious symbol at each of the crime scenes. Putting her scholarly skills to the test, Lila gathers evidence, but her search is complicated by an unexpected nemesis, a suspicious investigator, and an ominous secret society. Rather than earning an "A" for effort, she receives a threat featuring the mysterious emblem and must act quickly to avoid failing her assignment…and becoming the next victim.
Review: I love this series! It's set in an English department of a fictional university, and English (and literature) was always a favorite subject of mine. There are a lot of literary references throughout the story, too, which were fun to read.
Lila is a great main character. As the low man on the totem pole in the department, she has to walk a very narrow line between playing politics to save her chances for tenure and standing up for what she believes is best for the department.
The story is well-written, and the mystery keeps you guessing from beginning to end. There are plenty of suspects to choose from, and I kept jumping from one to another as the story progressed. I'm already anxious for the next book in the series to be released.
**I received a copy of this book in exchange for an honest review. All thoughts and opinions are entirely my own.**
Rating: Four stars
Cynthia Kuhn teaches and writes in Colorado. Her work has appeared in McSweeney's Quarterly Concern, Literary Mama, Copper Nickel, Prick of the Spindle, Mama PhD and other publications. She is the current president of Sisters in Crime-Colorado and blogs withMysteristas. Visit her at cynthiakuhn.net or @cynthiakuhn.
Purchase Links
Amazon
a Rafflecopter giveaway