Yarned and Dangerous




by Sadie Hartwell
Cozy Mystery
New Series
Paperback: 288 pages
Publisher: Kensington (November 24, 2015)
ISBN-13: 978-1617737176
ASIN: B00U7LJOEK
Synopsis
Time has not been kind to sleepy Dorset Falls, Connecticut, where an erstwhile resident is hoping to bring a tattered yarn shop back to life—but with a murderer on the loose, the whole town is in knots…
Josie Blair left Dorset Falls twelve years ago in hopes of making it big in New York City. But after earning an overpriced master's degree and getting fired by a temperamental designer, she finds herself heading back to her hometown. Her great-uncle was injured in a car accident, and newly unemployed Josie is the only person available to take care of him. Uncle Eb's wife didn't survive the crash, so Josie is also tasked with selling the contents of her Aunt Cora's yarn shop. But the needling ladies of the Charity Knitters Association pose a far bigger challenge than a shop full of scattered skeins…
Miss Marple Knits is one of the few businesses still open in the dreary downtown. Josie can't imagine how it stayed open for so long, yet something about the cozy, resilient little shop appeals to her. But when one of the town's most persnickety knitters turns up dead in a pile of cashmere yarn, Josie realizes there's something truly twisted lurking beneath the town's decaying façade…
INCLUDES ORIGINAL KNITTING PATTERNS!
Review: This book begins a new series which promises to be a big hit. The main character, Josie, is very likable and relatable. Her Great-Uncle Eben has a grumpy exterior, but I grew to like him as the story progressed. Josie also has some old friends in town, and she makes new ones as well.
Dorset Falls is a little town which seems to be failing, but the author makes you fall in love with it through her descriptive talents. Its residents are so close knit, and it's a generally quiet, peaceful area--it sounds like a wonderful place to live!
Of course, there is a murder for Josie to solve, which leads her to discover secrets about nearly everyone in town. She begins to wonder if anyone is really who they seem to be, and just who she can trust.
The story is very well written, and hard to put down once you start reading it. There is a lot of craft-related information included, which is interesting and educational. I'm not a knitter, but if I were, the patterns which are included would be very tempting to try.
I'm already looking forward to the next book in the series. This is definitely one I look forward to following.
Rating: Five stars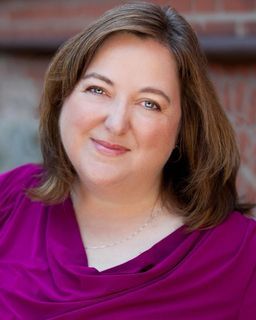 Sadie Hartwell grew up near the Canadian border in northern New York State, where it's cold, dark, and snowy almost half the year—a perfect environment for nurturing a simultaneous love of mystery fiction and needlework. She attended St. Lawrence University, graduating with a degree in history, and has worked as a waitress, handbag designer/manufacturer, paralegal, and copy editor before turning to writing full time. Now she gets to play with yarn and make up stories whenever she wants, and wishes everyone had a job as much fun as hers.
Purchase Links
Amazon
a Rafflecopter giveaway