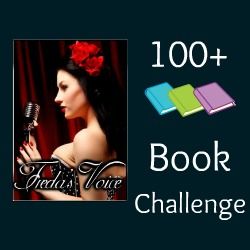 1. Create a post, but list as you read, either a blog or
GoodReads
, somewhere I can see it, and leave your
url
to that post in the Linky below.
2. Read some books. Any books. No limit in pages, even the phone book counts if that is your fancy. Just read!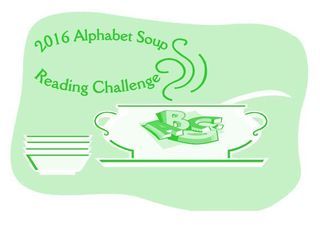 The Alphabet Soup Challenge means that by December 31, 2016
your bowls must be full of one book for each letter of the Alphabet.
Each Letter Counts As 1 Spoonful
Details
This challenge will run from January 1st, 2016 until December 31st, 2016.
You can join anytime. You do not have to review the book. Books can come from any genre

.
You do not need to link up each spoonful

.
Crossovers to other challenges are allowed and encouraged!
It's an alphabet challenge!!! The challenge is to read one book that has a title starting with every letter of the alphabet.
You can drop the A's and The's from the book titles as shown below.
The First Main Word Needs To Be

The Letter You Are Counting
Except For those pesky Q, X AND Z titles the word

that starts

with the challenge letter can be anywhere in the title.
So there are two different ways you can set up your own A-Z Reading Challenge.
A – How I plan to do it: Make a list on your blog from A-Z. Throughout the year, as you go along, add the books you are reading to the list. Towards the end of the year, you can check and see which letters you are missing and find books to fit.
OR
B – Make a list now of 26 books, picking one for each letter of the alphabet. For example:
A –
The Art of Murder
by Elaine Viets
B- Breach of Crust
by Ellery Adams
C –Copy Cap Murder
by Jenn McKinlay
D – Devonshire Scream
by Laura Childs etc.
1. Choose the level you wish to participate:
Famished – 1 – 10 Cozy Mysteries

Starving – 11 – 20 Cozy Mysteries

Satisfied – 21 – 40 Cozy Mysteries

Almost Full – 41 – 60 Cozy Mysteries

Completely Stuffed – 61 or more
2. You can Feed Your Need To Read with print, digital or audio books.
3. You do not have to post a review but the authors would appreciate it if you did. If you need help just let me know.
4. You do not need to have a blog to participate.
Just keep track any way you wish and enter a link below if available or sign up in the comment section. You can even set up a special shelf on
Goodreads.com
to help you keep track! Your can also participate via Facebook. You can find the Event here.
5. If you do have a blog, take the button above, put it on your blog and post about the challenge. Then add your name to Mr. Linky below. Please use the link of your challenge post, not the link to your home page.
7. Please share with us the books you are reading all year long by leaving comments on this page or on the Event page on Facebook.
8. I haven't decided on prizes yet for this challenge but when you complete this challenge please FILL OUT THIS FORM no later than January 15, 2017.
So, here are the rules...
1. Choose the level you wish to participate:
Level 1 - Snoop - Read at least 6 books
Level 2 - Investigator - Read 7-12 books
Level 3 - Super Sleuth - Read 13-20 books
Level 4 - Sleuth Extraordinaire - Read 21 or more books
2. The challenge runs from January 1, 2016 and ends December 31, 2016.
3. You don't have to choose your books in advance. If you do, you can change your list at any time during the year. Books can overlap with other challenges.
4. Books can be in any format - paper, audio, ebooks...it all counts!
5. You don't have to post a review, but I'm sure others would love to know about the books you are reading and may even want to add it to their reading lists.
NOTE: If you don't have a blog and want to participate, that's fine. You don't have to have a blog, just post in the comments section as you finish books. If you belong to a site like Goodreads and review the books there, that's fine too. Just leave us the link. I also have a group for this challenge on Goodreads and you can sign up by clicking here.
6. If you do have a blog, take the button above, put it on your blog and post about the challenge. Then add your name to Mr. Linky below. Please use the link of your challenge post, not the link to your home page.
7. I'm going to have one link for signing up, one link for completed reviews and one link for your wrap up posts. I won't be having a monthly link, just one for all reviews read for this challenge.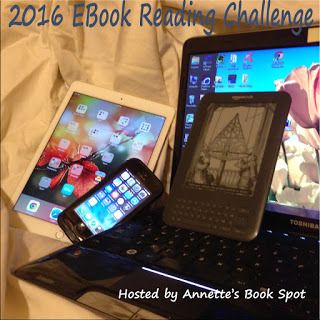 Challenge Guidelines:
This challenge will run from Jan 1, 2016 – Dec 31, 2016.
Anyone can join, you don't need to be a blogger. If you don't have a blog, feel free to sign-up in the comments. You can post reviews to any book site (i.e. Amazon, Barnes and Noble, Smashwords, Goodreads, etc).
Any genre or length of book counts, as long as it is in ebook format.
You can plan your books in advance or as you read them.
When you sign up in the linky, put the direct link to your post about joining the E-Book Reading Challenge.
Sign-ups will be open throughout 2016, so feel free to join at any time during the year.
Levels:
1. Bits – 5 ebooks
2. Bytes – 10 ebooks
3. Megabytes – 25 ebooks
4. Gigabytes – 50 ebooks
5. Terabytes – 75 ebooks
6. Empty the Cloud – 100 ebooks
At the beginning of each month there will be a roundup post for you to add your reviews for that month. The linky will remain open for the remainder of the year, so if you forget, feel free go back and add them when you remember.
Runs January 1, 2016 – December 31, 2016. You can join at anytime.

The goal is to find a new love for audios or to outdo yourself by listening to more audios in 2016 than you did in 2015.

Books must be in audio format (CD, MP3, etc.)

ANY genres count.

Re-reads and crossovers from other reading challenges are allowed.

You do not have to be a book blogger to participate; you can track your progress on Goodreads, Shelfari, Facebook, LibraryThing, etc.

If you're a blogger grab the button and do a quick post about the challenge to help spread the word. If you're not a blogger you can help by posting on Facebook or Tweeting about the challenge.
Newbie (I'll give it a try) 1-5
Weekend Warrior (I'm getting the hang of this) 5-10
Stenographer (can listen while multi-tasking) 10-15
Socially Awkward (Don't talk to me) 15-20
Binge Listener (Why read when someone can do it for you) 20-30
My Precious (I had my earbuds surgically implanted) 30+
Marathoner (Look Ma No Hands) 50+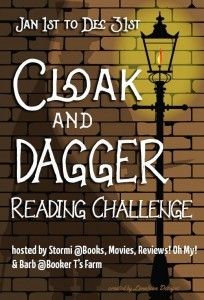 You can read any book that is from the mystery/suspense/thriller/crime genres. Any sub-genres are welcome as long as they incorporate one of these genres.

You don't need a blog to participate but you do need a place to post your reviews to link up. (blog, goodreads, booklikes, shelfari, etc.)

Make a goal post and link it back here with your goal for this challenge.

Books need to be novellas or novels, please no short stories. (At least 100 pages +)

Crossovers into other challenges is fine.

Challenge will be from Jan. 1

st

to Dec. 31

st

. (Sign up ends April 15

th

)
There will be a monthly link up so that others can check out your progress and look at your reviews. At the half way mark and the end we will have a giveaway for those participating.
If you tweet about your progress or reviews please use the hashtag #2016CloakDaggerChal so others can see it.
1-10 books – Amateur sleuth
31+ books – Special agent
The Reading Plan
January: Genesis 1 through Exodus 40

February: Leviticus 1 through Deuteronomy 4

March: Deuteronomy 5 through 1 Samuel 17

April: 1 Samuel 18 through 1 Chronicles 2

May: 1 Chronicles 3 through Esther 10

June: Job 1 through Psalms 89

July: Psalms 90 through Isaiah 17

August: Isaiah 18 through Ezekiel 8

September: Ezekiel 9 through Zechariah 14

October: Malachi 1 through Luke 18

November: Luke 19 through 1 Corinthians 8

December: 1 Corinthians 9 through Revelations 22
I will be reading the above list of titles during the months given. Furthermore, on the last day of each month (so, beginning December 31st 2015 for January 2016), a list of passages will be given for daily reading. This is really just to make it easier on myself; I find I can keep up with reading the bible, especially the rather dull bits, if I do a little bit every day. So, I'll share this list with all participants every month & will base my weekly and monthly check-in posts on those daily goals.
Every Monday: I'll post my thoughts on the passages that I read in the prior week, with some discussion questions, favorite quotes, questions, literary references that come to mind, etc. I hope these Monday posts will encourage discussion among those who are also reading along at a similar pace.
Month's End: I will post an update with the books/verses that I read during the previous month and list the readings (chapter and verse) for the upcoming month in a "readings per day" format. My goal is to read about the same amount each day, week, and month, but you can do whatever you want! I hope these monthly posts will be another place for everyone to discuss their experience with the readings.
Rules:
Sign-up with the Mister Linky

Read along with me in a daily, weekly, or monthly schedule (whatever works for you) and participate in discussion as much or as little as you like.

Post your thoughts on the bible readings somewhere on your blog, Tumblr, Goodreads account, or in the comments on any given post.



What?
Set a goal of how many reviews you want to write in 2016.
Post?
Post them on Goodreads, Amazon, Barnes & Noble or your own blog.
When?
January 1, 2016 – December 31, 2016