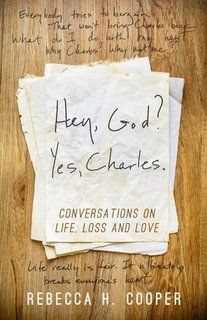 Genre: Christian, memoir, nonfiction
Paperback:

224 pages

Publisher:

Turner (November 10, 2015)

Language:

English

ISBN-10:

1630268860

ISBN-13:

978-1630268862
Synopsis:
Sunday, November 11, 2007, Becky Cooper watched her husband drive out of sight, heading from their Nashville condo to his office and apartment in Atlanta. She never saw him conscious again.
Monday, November 12, was his 58th birthday. Since he would be out of town, their granddaughters and Becky had made him a cake and celebrated before he left on that Sunday.
Wednesday, November 14, Charles caught Becky at her desk, calling just to let her know that he'd had some pain radiating down his back. He was sure it was nothing, but the company nurse, who just happened to be in the office that day, heard what happened and insisted on calling 911 as a precaution. They swapped love yous. She didn't even get out of her chair.
Twelve days later, despite hundreds, maybe thousands, of prayers, Charles died. Emergency open heart surgery was followed by complications, including acute respiratory distress syndrome, pneumonia, and various lung infections. He and Becky had been married almost 39 years.
In the following year, Becky learned that the connection with someone you love doesn't cease with death. Charles was always bigger than life, and his presence, his love, his humor, and these conversations were just as real after his death.
For better, for worse, Becky started scribbling down what she was overhearing in heaven.
She was done talking to God. Charles, as it turned out, was not.
Review: This is one of the few books of this size that I read in one sitting this year. When I got started, I simply could NOT put it down. There were so many emotions in the pages of this book--I laughed and I cried, and laughed until I cried.
The short, simple conversations between Charles and God are a very different way of exploring the grieving process of a surviving spouse. We get the viewpoint of the deceased spouse as he watches her try to make it through each day, and we get words of wisdom from God. Be prepared for God's sense of humor in this book--I think that was one of my favorite aspects of it. We already know He is caring and compassionate toward us, but apparently He loves a good joke as well. :)
Although I have not experienced the loss of a spouse yet in my life, I have been close to people who have, and I feel this book captures so many of the emotions perfectly. I'm keeping it on my shelf, and I hope to be able to pass it on to friends/relatives who may be hurting, and to use it someday to remind myself that grief is an emotion from which you CAN recover.
HIGHLY recommend this to absolutely everyone!!
**I received a copy of this book in exchange for an honest review. All thoughts and opinions are entirely my own.**
Rating: Five stars
Rebecca Cooper is a Belmont University graduate and former teacher, business owner and career professional. Her love of writing dates back to elementary school, and she has produced stories, poetry, and various articles over the years. In her first published work, scribbles on scraps of paper capture conversations she began to overhear after the sudden death of her husband. While prioritizing her grandchildren and a love for travel and books, she divides the rest of her time among church and other family and friends – all of whom took turns carrying her along a journey of love, loss and recovery. Rebecca currently resides in Franklin, Tennessee. Visit
www.HeyGodYesCharles.com
for more information.