Cozy Mystery
9th in Series
Publisher: NAL (November 3, 2015)
Mass Market Paperback: 304 pages
ISBN-13: 978-0451473844
E-Book ASIN: B00S75OKKQ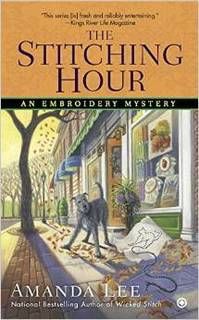 Synopsis: In the latest mystery from the bestselling author of Wicked Stitch, the future of Marcy Singer's embroidery shop is dangling by a thread…
Marcy's shop, the Seven-Year Stitch, is one year old this October so it's time to party in little Tallulah Falls, Oregon. Aside from the Halloween decorations and festive stitching kits and patterns, Marcy's got all sorts of celebratory swag, including Seven-Year Stitch key rings and goodie bags.
Unfortunately, her new neighbors might spoil the revelry. An eccentric couple has opened a haunted house next door, and all that screaming will certainly scare off customers. But there's even more to be frightened of after a local waitress is found dead on the sidewalk with mysterious markings on her neck—and one of Marcy's key rings beneath her. With no time to hem and haw, Marcy must act fast if she hopes to restore the peace to Tallulah Falls.
Review: Although this is the ninth book in the series, it is the first one that I have read. I had no trouble following the story, however, as the personal relationships were explained as the story progressed.
Tallulah Falls, Oregon is a quaint small town where everyone knows everyone, and where main street is populated by a variety of boutique stores. The main character, Marcy Singer, is preparing to celebrate the first birthday of her embroidery shop, The Seven Year Stitch, as well as joining the rest of the town in preparing for Halloween.
I enjoyed the entire story--the main mystery as well as the subplots. I was totally blindsided by the revelation of the killer, although it made perfect sense once it was revealed.

I hope to read more of this series in the future.
**I received a copy of this book in exchange for an honest review. All thoughts and opinions are entirely my own.**
Rating: Five stars
About the author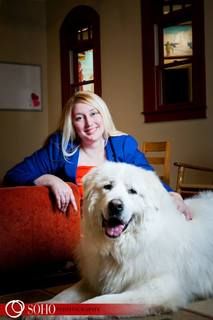 Gayle Trent (and pseudonym Amanda Lee) writes the Daphne Martin Cake Decorating series and the Embroidery Mystery series. The cake decorating series features a heroine who is starting her life over in Southwest Virginia after a nasty divorce. The Embroidery Mystery series features a heroine who recently moved to the Oregon coast to open an embroidery specialty shop.
a Rafflecopter giveaway