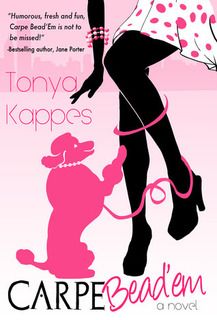 Paperback:

272 pages

Publisher:

CreateSpace Independent Publishing Platform (May 12, 2011)

Language:

English

ISBN-10:

146117502X

ISBN-13:

978-1461175025
Synopsis:
Orphaned at a young age, Hallie Mediate was raised by her (slightly) crazy Great Aunt Grace on the wrong side of the tracks in Cincinnati. Hallie dreamed of escaping her hometown and never looking back. After putting herself through college, landing her dream job in Chicago, and starting a romance with her handsome running partner Bo Pompillio, life is finally exactly as she wants it.
That is, until she's transferred back to the hometown. Not wanting her past to cross paths with her future, Hallie puts her relationship with Bo on hold.
When she arrives in town, Hallie finds crazy Aunt Grace rummaging through a dumpster looking for the "perfect" welcome home gift for her niece. That's just the beginning. After that, Aunt Grace stays busy by dying her stolen poodle's hair pink and leaving the dog on her apartment roof to pee, throwing bricks out the window at passing neighbors, and climbing every flag pole to kiss the ornamental eagle.
Hallie finds some sanity at a local jewelry-making class where she uncovers a hidden talent for beading. When her talent is discovered by a major department store jewelry buyer, Hallie realizes that what she had in Chicago might not have been her dream life after all.
When faced with the choice of moving back to Chicago and Bo or taking a leap of faith to start her own jewelry company (with Aunt Grace in tow), Hallie has to make a decision. Will she let her past and her future collide, or will she or keep searching for the happiness she may already have found?
Review: This was a fun, fast read. Hallie gets transferred from Chicago to Cincinnati, her hometown which she has been avoiding. She has a variety of adventures, particularly with her Aunt Grace, who is VERY entertaining.
In the course of this story, Hallie discovers things she never knew about her family, her passions, her job, and herself. The Hallie we meet at the beginning of the book is not the same Hallie we know at the end--and that's a good thing!
You'll laugh, you'll cry, and you'll want to keep reading to the end. Enjoy!!
**I received a copy of this book in exchange for an honest review. All thoughts and opinions are entirely my own.**
Rating: Five stars