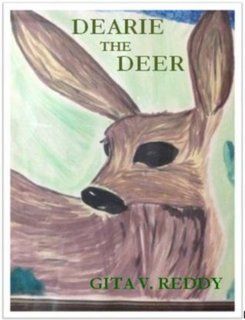 Print Length:

35 pages

Publication Date:

January 20, 2014

Sold by:

Amazon Digital Services, Inc.

Language:

English

ASIN:

B00D9T44SI
Synopsis:
A deer, like any other animal in the forest, has to be brave to survive.
Dearie need not be brave like a lion or tiger. He does not have to fight any other animal . After all, he is a deer.
What Dearie needs is sufficient courage to have his wits about him and flee when there is any threat of danger. The sooner he takes to his heels, the better are his chances of survival.
But Dearies is possibly the most timid deer that ever lived. At the first whiff of danger, real or imagined, he freezes and stays where he is.
When his fear becomes a threat to the herd, Dearie must leave the herd and live alone, alone with his fears amidst the dangers that abound all around him.
Review: This is a short chapter book which can either be read by a beginning reader or read to a pre-reader by an adult. The pictures are small black silhouttes of Dearie and other animals in the story.
I found the story itself to be an inspirational one. Dearie is frail and weak at birth, and the herd continues to treat him that way even as he grows, so he continues to react to situations in that manner as well. When his fear threatens the entire herd, they turn him out, forcing him to live alone and face his fears. From there, we learn about his journey to find courage and strength. Will he be able to return to the herd, or will he be forced to be alone forever?
This would be a good teaching tool for children who deal with fears and anxiety, showing them how to find their inner strength.
**I received a copy of this book from the author in exchange for an honest review. All thoughts and opinions are entirely my own.**
Rating: Five stars
About the author
Gita V.Reddy is a writer of fiction for middle-graders and adults. She enjoys thinking up tales of different genres. She has written mysteries, adventure, fantasy, science fiction, and even an animal tale for children.
She wrote and illustrated her first picture book for kids in August, 2015. She plans to write a few more because the experience was very satisfying.
Ms Reddy was born in India, is a post graduate in Mathematics, worked in a bank for twenty-six years, is married to a physics professor, has a son doing research in neuro-electronics, and loves literature. Yes, her life is as mixed up as the multiple genres she writes.
She enjoys painting and spending time with her family, and LOVES walking in the rain.
She also writes under the name Heera Datta
Visit her website:
www.gitavreddy.com
and facebook page:
https://www.facebook.com/pages/Gita-R...