Title
: Pinkie McCloud and How She Saved Ballooze
Author: Eileen Goldenberg
Publisher: Guardian Angel Publishing
Pages: 32
Genre: Children's Picture Book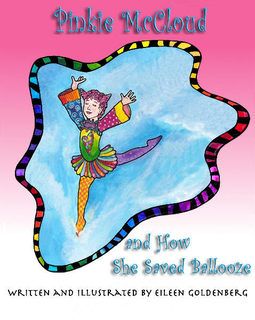 Synopsis:
Chloe LeQuinn was quick to judge the new girl in town, Pinkie McCloud. She and her friends made fun of Pinkie because of the tiny pink wings sprouting from her head. However, when a terrible Katrina- like storm hits the town of Ballooze, it's Pinkie who saves Chloe and the rest of the townsfolk. Suggested age range for readers: 4-7
Review: A wonderful story! The author-illustrator does a fabulous job with the theme of accepting people in their uniqueness. Along with the well-written rhyming story, we are presented with brightly colored illustrations on each page. While it does have more text per page than many picture books, I think that can be overlooked, especially if it is being read by an adult. It may be a bit of challenge for a beginning reader, but it could also be a goal for them to work toward.
Rating: Five stars
About the author
Eileen is an award-winning artist who has been creating art in many different forms for practically her whole life. Her first career as an Art Director was back in the days of -not quite Madmen-but definitely days of press type, T-squares, rubber cement and no computers or Photoshop. Retiring from that 60-hour a week job to raise her two children, Eileen rediscovered her love of children's literature and illustration. Recalling her obsession with the Oz series, the Mary Poppins series, the classic tales of the Brothers Grimm and Hans Christian Anderson, she spent many hours introducing her kids to those old classics along with new and wonderful worlds- and words.
With her art, Eileen always loved to combine words and pictures, or create art that told a story, or implied a mystery. For her, it was a natural progression to picture books.
Several years ago Eileen wrote Pinkie McCloud and How She Saved Ballooze, and decided to jump into the world of kid lit full force. She illustrated the wonderful Rainbow of Friendship, written by Joni Klein-Higger, and the soon to be released I Have a Voice. With the publication of Pinkie, Eileen hopes her role as author-illustrator is just getting started!