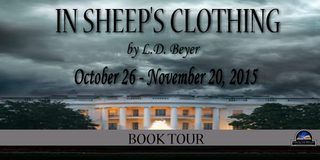 Title:
In Sheep's Clothing
Release Date:
August 2, 2015
Publisher: Old Stone Mill Publishing
Genre: Political Thriller
Format: Ebook/Paperback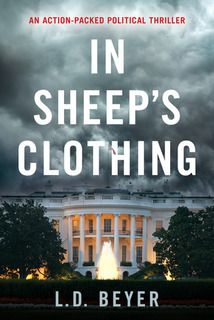 Synopsis:
One man holds the reins of power.
One man vows to protect him.
One man vows to destroy him.
Caught in a game of chess he didn't know he was playing until it was too late, the President makes the only move he can, plunging Washington and the nation into chaos. Stunned and reeling, Vice President David Kendall takes the oath of office and tries to heal a nation in mourning. But what the new president doesn't realize is that things in the White House aren't always what they appear to be, and sometimes what looks like the best option may turn out to be the worst. When one fatal decision triggers consequences he never envisioned, President Kendall finds himself caught up in the same game that cost his predecessor his life.
Although there was nothing he could have done, Secret Service Agent Matthew Richter is haunted by the death of the man he had vowed to protect. When his girlfriend dumps him and his boss tells him that his job is on the line, he thinks his life cannot get any worse. He soon realizes how wrong he is when he finds himself fighting to save another president from the deadly forces that he has unwittingly unleashed.
This new release by L.D. Beyer is a fast-paced, action-packed political thriller that will leave you on the edge of your seat.
Review: I'm not always a fan of political thrillers, but this one is amazing. There is lots of suspense and intrigue, from beginning to end.

Along with a great plot, we also are treated to a wide variety of characters, both heroes and villains. Matthew, the main character, is troubled by not saving the former President, and we get a deep insight into his turmoil. He is realistically flawed and human, which is always a sign of a great hero.

The author's detailed research is evident, from providing information on the mechanics of a plane, to the inner workings of the Secret Service, to the protocol of a search and rescue mission.

This story has a very plausible plot, and may well make the reader more than just a little uncomfortable. I highly recommend it to anyone who has enjoyed Tom Clancy's writing in the past.

(There is an excerpt from the next book in the series, An Eye For An Eye, at the end of this one, and I can hardly wait for it to be released!)

Rating: Four stars
In Sheep's Clothing is available for order at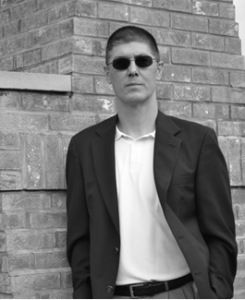 L.D. Beyer spent over twenty-five years in the corporate world, climbing the proverbial corporate ladder. This meant a lot of time away from his family, extensive travel, a half dozen relocations, and the opportunity to live and work in Mexico for several years. In 2011 he decided it was time for a change—he was tired of moving every few years, he wanted to spend more time with his family and he wanted to chase his dream of being a writer. LD Beyer is an avid reader and although he primarily reads Thrillers, his reading list is somewhat eclectic. He believes a few hours with a good book beats a few hours in front of the TV any day. LD Beyer lives in Michigan with his wife, three children and a dog named Tope (pronounced Toe-Pay), which he adopted in Mexico. He enjoys cooking, hiking, biking, working out and fixing just about anything that breaks in the house. With 3 kids, a dog and an aging house, he always seems to be fixing something!