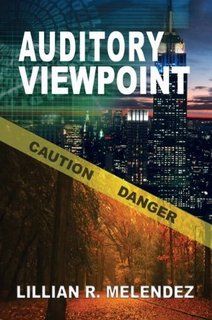 Genre: Mystery/suspense
ISBN-10:

1612962114

ISBN-13:

978-1612962115

Publisher:

Black Rose Writing (July 25, 2013)

Paperback:

248 pages

Also available for Kindle
Synopsis:
Gloria Rank has lived her entire life in the dark. Blind since birth, she has made a name for herself as a respected talk radio show host in New Jersey. When her younger sister, Anna, has her identity stolen and a man is murdered outside her apartment, Anna becomes the prime suspect in an FBI investigation. But when bodies begin piling up around her, the FBI has to admit that she is being stalked by a murderer.
With the FBI focused in the wrong direction, it is up to Gloria to teach Anna to use her other senses--hearing, touch, taste, and smell--which she never really had to completely rely on before to help uncover a ring of identity thieves and stop the killer from taking her life, and perhaps Gloria's as well!
Their only hope for survival is an experiment in perception that will unearth heartbreaking secrets and catapult Gloria into a darkness of the heart beyond any that she has ever known.
Review: The concept of this book is totally original, not to mention fascinating. The main character, Gloria, is blind, and has had to rely on her other senses to learn about people and places. Through the course of this story, she finds herself having to teach her sister those same lessons so that they can solve a string of murders and stop a ring of identity thieves.
There is some very well-written dialogue in this book, and the suspense and intrigue are felt all the way through the story. The plot grabs you from the start, and never lets go. You will keep reading, wanting to find out how it all plays out.
I did spot a few minor grammatical errors,
but for the most part
the book is well-edited.
I would recommend this to anyone who enjoys old-fashioned mystery stories.
Rating: Four stars
Mystery novelist, Lillian R. Melendez was born in New York, and grew up in South Orange, New Jersey. She began to publish her work when she was very young. The arts as a whole have always been an interest, but creative writing is her passion. She received a B.A. degree in English with a minor in Psychology from Trinity University in Washington, D.C. She is a member of Mystery Writers of America.