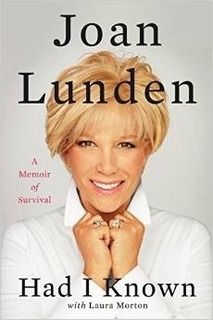 Hardcover:

320 pages

Publisher:

Harper (September 22, 2015)

Language:

English

ISBN-10:

0062404083

ISBN-13:

978-0062404084
Synopsis
In
Had I Known
, the former host of Good Morning America, health advocate, international speaker, mother of seven, grandmother of one and
New York Times
bestselling author, Joan Lunden, speaks candidly about her battle against breast cancer, her quest to learn about it and teach others, and the transformative effect it has had on her life.
With a large extended family counting on her, giving up was not an option. After announcing her diagnosis of Stage 2 Triple Negative Breast Cancer on
Good Morning America
, people all over the country rallied around Joan as she went into warrior mode. Joan appeared on the cover of People Magazine bald, showing the world her brave resolve and that breast cancer does not need to define you.
Joan's illness has changed her in profoundly unexpected ways and has redefined her values and most of all, her health. Following a new clean and healthy way of eating, Joan became her best advocate by taking control of her nutrition, which helped combat the adverse side effects of chemotherapy like a warrior.
Uncharacteristically vulnerable, irreverent and straight from the heart,
Had I Known
is a deeply personal and powerful story of pain, persistence, and perseverance in which Joan openly evaluates her decision to go public with her battle, shaving her head, wig shopping, re-connecting with her viewers, rediscovering her purpose, and ultimately realizing that sometimes you have to look back to move forward.
Review
This book really touched a chord with me. Being a breast cancer survivor myself, this is one of the most honest stories I've read. So much of what Joan experienced, and how she felt, mirrored my own journey and my own thoughts. It was wonderful to have those thoughts validated by another survivor, let me tell you!
I could relate to her anxiety over how to tell her children about her diagnosis, and to her aversion to letting other people help her, even when she really needed it. That was probably the worst part of the entire journey for me--having to admit that I needed help with such simple things as housework and cooking because I was just too tired to do it myself.
I loved the quotes at the beginning of each chapter, which came from celebrities who have battled cancer. It's a great reminder that they are human, just like the rest of us, and that they can feel things much the same way we do. They are also a great source of inspiration.
I recommend this to anyone who has gone through this journey, is going through it, or knows someone who has or is going through it.
**I received a copy of this book from Goodreads First Reads in exchange for an honest review. All thoughts and opinions are entirely my own.**
Rating
Joan Lunden is an author, journalist and television host. She found fame as the co-host of
Good Morning America
from 1980-1997. She was diagnosed with breast cancer in 2014. Lunden is the mother of seven and lives in Connecticut with her second husband.