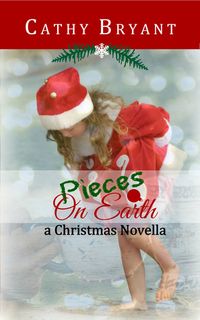 Paperback:

166 pages

Publisher:

WordVessel Press (November 4, 2015)

Language:

English

ISBN-10:

1941699103

ISBN-13:

978-1941699102
Synopsis:
As the wife of a naval aviator in sunny Pensacola, Florida, Liv Tulley eagerly anticipates the first Christmas in several years with her husband, daughter, and extended family. Then her husband is unexpectedly deployed for an undetermined amount of time, smashing her white Christmas dreams to pieces. Can she find God's peace in the midst of life's pieces?
Review
A lovely Christmas-themed novella, which reminds the reader of the true meaning of Christmas. The title refers to how Liv's life and her holiday plans seem to be falling to pieces, but God is able to put them back together. It also refers to her daughter, Chesney, trying to remember her lines for a Christmas program and having a difficult time saying "peace on earth" rather than "pieces on earth."
Each of the characters touched my heart in a different way, but my favorite was definitely young Chesney. She is so open to listening to her parents tell her about God, and she often seems wise beyond her years, while at other times she seems like a typical preschooler. The cover of the book is a great representation of her.
This is a story I will keep in my Christmas collection, and will recommend to others.
**I received a copy of this book in exchange for an honest review, and all thoughts and opinions are entirely my own.**
Rating
About the author