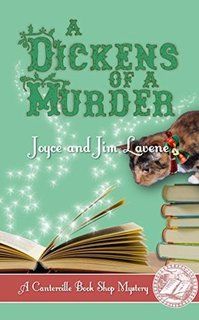 Book Information
A Dickens Of A Murder
(Canterville Book Shop Mystery #1)
Paperback:

260 pages

Publisher:

CreateSpace Independent Publishing Platform; 1 edition (October 26, 2015)

Language:

English

ISBN-10:

1518794564

ISBN-13:

978-1518794568
Synopsis:
Christmas at Canterville!
Lisa Wellman and Simon Canterville are surprised to find a dead man on their roof in the midst of rushing to open the Canterville Book Shop in time for the holidays. And not just any dead man – Ebenezer Hart – the man who opposed the book shop opening in Olde Town, Portsmouth, Virginia.
What might be more surprising is when Daniel Fairhaven – Lisa's ex – turns up at the door of the three-story Victorian house to head the police investigation. She hasn't seen him in years but the sparks start to fly as soon as they are in the same room together.
Simon and Lisa are obviously the best suspects for the murder. Each of them had something to gain by Hart's death. Then an attempt on Simon's life throws that theory into a tailspin.
But the biggest surprise yet comes when the ghost of Charles Dickens turns up to help Lisa with the murder investigation – and writing the mystery novel she has been working on for years.
Without a doubt, Daniel and Dickens in Lisa's life means trouble. And there's still the matter of trying to get the book shop open with a killer on their heels.
Review: This was a tough book to read and review. Joyce Lavene passed away suddenly on October 20, 2015, and this is the first book to be released after her death.

This is the first book in a brand new series, and it's a series that I am sure is going to become one of my favorites. It is set in a bookshop, which goes a long way toward ensuring I would enjoy it. Then you add in that each book will feature a literary ghost (in this instance, Charles Dickens), and what could be better for a certified bookworm like me?
The main characters---Simon, Lisa, and Daniel--are very well written and easy to like. It was also fun to read about appearances by characters from another series written by the Lavenes. The mystery was tough to figure out, which is just the way I like it. And the ghost angle makes the story that much more fun. There are also three cats---Puck, Maggie May and Truffles--and a dog, Wordsworth, living in the bookstore/house.
Can't wait to see what's next in this series!
**I received a copy of this book in exchange for an honest review. All thoughts and opinions are entirely my own.**
Rating: Five stars
About the author
Joyce Lavene
and
Jim Lavene
are a wife and husband team who have written and published more than 70 books since 1999. They live in North Carolina with their family and enjoy cooking, photography and ghost hunting.