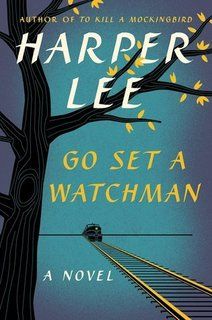 Synopsis:
From Harper Lee comes a landmark new novel set two decades after her beloved Pulitzer Prize-winning masterpiece, To Kill a Mockingbird.

Maycomb, Alabama. Twenty-six-year-old Jean Louise Finch - 'Scout' - returns home from New York City to visit her aging father, Atticus. Set against the backdrop of the civil rights tensions and political turmoil that were transforming the South, Jean Louise's homecoming turns bittersweet when she learns disturbing truths about her close-knit family, the town and the people dearest to her. Memories from her childhood flood back, and her values and assumptions are thrown into doubt. Featuring many of the iconic characters from To Kill a Mockingbird, Go Set a Watchman perfectly captures a young woman, and a world, in a painful yet necessary transition out of the illusions of the past - a journey that can be guided only by one's conscience.

Written in the mid-1950s, Go Set a Watchman imparts a fuller, richer understanding and appreciation of Harper Lee. Here is an unforgettable novel of wisdom, humanity, passion, humor and effortless precision - a profoundly affecting work of art that is both wonderfully evocative of another era and relevant to our own times. It not only confirms the enduring brilliance of To Kill a Mockingbird, but also serves as its essential companion, adding depth, context and new meaning to an American classic.
My review:
I've been waiting for this one since the day I heard it was going to be published. Unfortunately, it didn't live up to my excitement.
To Kill A Mockingbird has always been one of my favorite novels, because of the way it battled racism and injustice. I've read it over and over, and never get tired of it. I don't think I'll be reading Go Set A Watchman more than this one time.
At the time of this story, Jean Louise (Scout) Finch is 26, and comes home to Maycomb County, Alabama from her new home in NYC. She finds things are different than she remembers them, particularly in terms of race relations. Worst of all is when she discovers her father and her boyfriend at a community council meeting where everyone appears to be spewing racial hate.
This book doesn't have the action of Mockingbird, and I didn't find myself attached to any of the characters. The characters seemed less developed and defined this time--if I'd read this one first, and then Mockingbird, I might have enjoyed it more.
The end of the story seemed just a little too predictable and rushed for my liking as well. I would have liked to see a little more time spent on Jean Louise working through her feelings.
My rating: Three stars