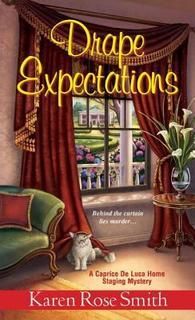 Synopsis:
These days, home stager Caprice De Luca's calendar is a full house. Her grandmother's health is failing, her wayward uncle is stirring the pot, and she's torn between two equally eligible suitors. With so much drama in her personal life, Caprice is grateful to have Ace Richland, a former 80s rock star, ask her to stage his girlfriend's house. But Alanna Goodwin is a tough customer who balks at Caprice's ideas and all but commandeers the staging. Caprice almost isn't surprised when the snappish Southern belle is strangled to death with a tieback from her tacky velvet drapes. But just as she draws back the curtains on the truth, Caprice realizes she may be next on a murderer's set list...
Thoughts:
This is the first book I've read in this series, and I'm definitely hooked on it. There is a love triangle, but it is resolved by the end of the book, so I can overlook it. :)
Caprice stages homes to help sell them, and in the course of her job she manages to discover dead bodies--and then feels compelled to solve the crimes. She is also an animal lover, as are the majority of the other characters in the story, so we are introducted to a variety of pets as well as people. Caprice's Nana is one of my favorite characters, with her kitten and her wonderful words of advice.
The mystery is very well played out, with red herrings and honest clues all along the way. The relationships between Caprice, Seth and Grant are honestly written, with all of Caprice's doubts and concerns about each one as she tries to choose between them.
Can't wait to see what happens in the next book!
**I was given a copy of this book in exchange for an honest review. All thoughts and opinions are entirely my own.**
My rating: Four stars